Echoes of the Past: The Buddhist Cave Temples of Xiangtangshan
The Buddhist Channel, Oct 1, 2010
Chicago, IL (USA) -- Carved into the mountains of northern China, the Buddhist cave temples of Xiangtangshan were the crowning cultural achievement of the sixth-century Northern Qi dynasty.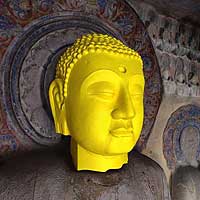 Once home to a magnificent array of sculptures - monumental Buddhas, elaborate attendant figures, and crouching monsters framed by floral motifs - the limestone caves were severely damaged in the first half of the twentieth century when their contents were chiseled away and offered for sale on the international art market.
During the past six years, however, the caves have become the focus of a research and reconstruction project based at the Center for the Art of East Asia at the University of Chicago. Combining cutting-edge 3-D imaging technology with old-fashioned scholarly work, an international team of experts has photographed and scanned the dispersed objects as well as the interior of the caves themselves.
Organized by the Smart Museum of Art and the Smithsonian Institution's Arthur M. Sackler Gallery, Echoes of the Past represents the culmination of this extraordinary research project. It sheds new light on the original beauty and meaning of the shrines, uniting dispersed objects from Xiangtangshan - considered among the finest achievements of Chinese sculpture - with innovative digital components, including a video installation that provides an immersive, kinetic re-creation of one of the most important caves.
September 30, 2010—January 16, 2011
Smart Museum, Univ of Chicago
Cost: Free
Opening Title: Opening Reception
Website: http://smartmuseum.uchicago.edu/exhibitions/echoes-of-the-past/