Newly Discovered and Iconic Works by Hokusai, Early Buddhist Sculpture, and Important Porcelains in Asia Week Exhibition of Japanese Art
ARTFIX Daily, January 6, 2011
New York, NY (USA) -- Two newly discovered paintings by Katsushika Hokusai, creator of The Great Wave off Kanagawa, and dozens of other rare and exceptional works of art will be exhibited in JADA 2011: An Exhibition by the Japanese Art Dealers Association. The exhibition will run from March 19 – March 23, 2011 at the Ukrainian Institute of America at 2 E. 79th St. in New York City.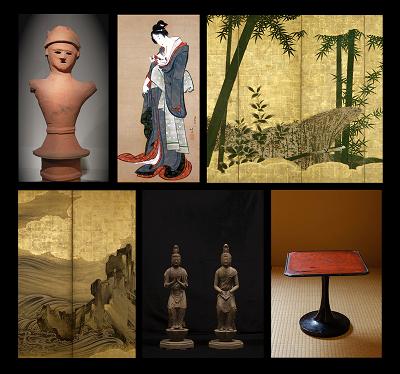 Clockwise, from top left: Haniwa Warrior, 6th century, courtesy Judith Dowling Asian Art. Katsushika Hokusai, Young Geisha with Kitten (detail), circa 1805-10, courtesy Sebastian Izzard LLC Asian Art. Madake Bamboo by Bamboo Fence (detail), 18th century; courtesy Erik Thomsen Asian Art. Negoro lacquered stem table, 14th century; courtesy Mika Gallery. Kannon Bosatsu and Seishi Bosatsu, Kei School, 13th century; courtesy Koichi Yanagi Oriental Fine Arts. Attributed to Hasegawa Togaku, Waves
(Japanese Art Dealers Association)
(ArtfixDaily.com)
JADA 2011 is the association's third joint Asia Week exhibition and presents the traditional fine arts of Japan.
"Asia Week in New York is a rich, long-standing tradition that dates back to the early 1990s and inspired a similar event in London," said Leighton R. Longhi, president of JADA. "This year, around 50 galleries will be holding Asia Week exhibitions, not to mention museum exhibitions, auctions, and lectures and talks. We are delighted that so many galleries that handle Asian art are now working collaboratively, as JADA has done since its founding in 2002, and it is rewarding to note that there will be over 15 exhibitions of Japanese art throughout New York during Asia Week 2011, as well as several auctions and other events. We look forward to welcoming lovers of Japanese art from around the world to Asia Week New York."
Highlights of JADA 2011 include two recently discovered paintings by Hokusai, who has been celebrated in the West as one of Japan's foremost artists since his discovery by French artists in the 1860s. Quickly achieving an almost cult-like status in Europe, American scholars and collectors such as Ernest Fenollosa, Charles Langdon Freer, and William Sturgis Bigelow were also smitten and built up large collections of his paintings and drawings, which currently reside in the Freer Gallery of Art, Smithsonian Institution, Washington DC, and the Museum of Fine Arts, Boston. Monographs on the artist have been published since the 19th century, and in recent years numerous exhibits in Japan, Europe and the United States have been devoted to his work. The appearance in the marketplace of two previously unknown paintings marks a significant event.
Young Beauty Holding her Kitten (ca. 1805) presents a young geisha in the bold, angular brush-strokes, thick opaque pigments, and muted color scheme, that is the hallmark of Hokusai's ukiyo-e style in this period—the silk is lined with blue paper, a technique the artist employed to create the illusion of an interior space at twilight. As the young woman holds the kitten tenderly to her breast, the pet struggles vainly to free itself from her grasp. The painting is signed Gakyorojin Hokusai ga ("painted by Hokusai, the old man mad about painting") and is sealed Kimo dasoku
("Hair on the turtle, legs on the snake"). This signature formulation can also be found on a number of privately commissioned prints Hokusai designed at the time, a period when Hokusai was actively seeking work as a painter, the most lucrative employment available to an artist of the Ukiyo-e School.
Dragon in Clouds, a painting of Hokusai's mature period, dates from circa 1830, and is one of a series of dragon-and-cloud images that the artist appears to have executed annually as part of a religious exercise during the Tempo era (1830–44); Hokusai was also born during the Year of the Dragon. In stark contrast to the ukiyo-e style Young Beauty, Dragon in Clouds is executed primarily in ink, an example of the artist's mastery of this medium, which he uses here to spectacular effect.
JADA 2011 will also include Hokusai's famous print South Wind, Clear Day, popularly known as the "Red Fuji," from his landscape series Thirty-six Views of Mount Fuji, also published circa 1830.
Among the oldest works in JADA 2011 is a striking, 29-inch tall Haniwa warrior, an earthenware funerary ritual object. Simplified in its execution, the figure's torso has a pronounced V shape, suggesting a man of great strength, perhaps a military ruler, and is crowned by a helmet.
JADA 2011 will also exhibit a pair of Buddhist sculptures carved from Japanese cypress, Kannon Bosatsu and Seishi Bosatsu (Mahasthamaprapta Bodhisattva and Avalokitesvara Bodhisattva). The sculptures date from the early Kamakura period, 13th century, and present wonderful facial features that are stylistically related to work of the celebrated and prominent Kei school sculptor, Unkei (1151-1223). In 2008, a 12th century sculpture of Dainichi Nyorai by Unkei sold for $14.4 million, establishing a new record for a work of Japanese art sold at auction.
The exhibition will also include several notable decorative works of art, including fine maki-e gold lacquer suzuribako writing boxes. Also presented will be a rare Kakiemon figural porcelain notable for its quality and the colored enamel patterning on the robes. Formed as a seated beauty leaning on an armrest, the figure appears to be based on illustrations of courtesans in a 1661 guidebook to Edo's pleasure district. The only figures of this type found in American public collections are in the Metropolitan Museum of Art, Packard Collection, and The Asia Society, Rockefeller Collection.
An important pair of screens attributed to Hasegawa Togaku, the son of the legendary Hasegawa Tohaku, illuminate the Japanese love of nature and fascination with the ocean. Dating from the first half of the 17th century, the screens, which brilliantly fuse ink and gold technique, span nearly 24 feet when extended and provide an immersive, panoramic view of a seascape: they are typical of the grand Momoyama style created for ruling warlords and distinct for their powerful design. The jagged angularity of protruding rocks is balanced by modeled ribbons of water flowing around them, creating an exceptionally dynamic composition.
In addition to the joint exhibition held at the Ukrainian Institute, three of JADA's members will hold exhibitions at their galleries. Mika Gallery will present Japanese Religious Art from March 15 – March 23, Erik Thomsen Asian Art will exhibit Golden Treasures: Japanese Gold Lacquer Boxes from March 22 – May 28, 2011, and Koichi Yanagi Oriental Fine Arts will hold Kokon Biannual: Spring, 2011 from March 16 – April 14, 2011.
About JADA: Founded in 2002, the Japanese Art Dealers Association is a not-for-profit group whose members include leading New York galleries and private dealers. JADA's members are dedicated to the fine arts of premodern Japan and hold individual gallery exhibitions, joint exhibitions, and sponsor lectures and symposia at institutions in the United States. JADA's members are Judith Dowling Asian Art, of Boston, and, in New York, Sebastian Izzard LLC Asian Art, Leighton R. Longhi, Inc. Oriental Fine Art, Mika Gallery, Erik Thomsen Asian Art, and Koichi Yanagi Oriental Fine Arts. For more information, please visit www.jada-ny.org.
Exhibition: JADA 2011: An Exhibition by the Japanese Art Dealers Association
Dates: March 19 – March 23, 2011
Hours: March 19, 11 AM – 5 PM; March 20-23, 11 AM – 6 PM
Location: Ukrainian Institute of America, 2 E. 79th St., 2nd Fl., New York, NY