Protest far from easy for men of peace
By ABI THOMAS, Northern Advocate, March 25, 2008
Whangarei, New Zealand -- PROTESTING or even holding up signs is not in the normal mindset of a Buddhist monk. But it is when people in their homeland are being killed.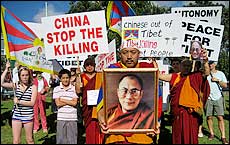 << More than 90 people march through the centre of Whangarei on Saturday. Picture/Peter de Graaf
The peaceful men were right out of their comfort zone last Saturday, as they and about 90 others marched through the centre of Whangarei against the Chinese Government's actions in Tibet.
The support shown for the marchers was positive and boded well for another, bigger march planned for this Saturday, said Whangarei Buddhist Centre co-director Kaari Schlebach.
Word of the march was sent by text message and there was a good turn-out for only 24 hours' notice on a holiday weekend, Ms Schlebach said.
Supporters were marching for two reasons.
"First of all, it's a show of solidarity for our Tibetan friends, and it's also for the Chinese soldiers, who've been so indoctrinated."
For the resident monks at Whangarei's Buddhist Centre, to even walk in a march holding a sign was a huge step.
"For the monks, it's a very uncomfortable place to be," Ms Schlebach said.
"For us, we have grown up in the Western world, where we're allowed to believe in whatever we like and can speak up about it. But they're men of peace - for them to walk in a protest is a big call, especially for the older ones."
A petition at Saturday's Growers Market attracted 600 signatures, in a call for Helen Clark and the New Zealand Government to take a stand and get a United Nations investigative team into Tibet and also to condemn Chinese actions. The petition attracted so much support Ms Schlebach had to rush home to print more forms.
Ms Schlebach said the petition would be sent to Wellington after this weekend's march, where more signatures would be collected.
A Tibetan woman now living in Whangarei spoke of her four years in prison for daring to speak her mind, which brought tears to the eyes of many listening.
"She was 17 and she had the courage to walk into a market and cry, `Free Tibet'. I looked around the crowd when she was speaking, and I don't think I saw a dry eye," Ms Schlebach said.
Afterwards, sitting down with a cup of tea, the monks quietly reflected on the support that had been shown by the Whangarei community.
"They were astounded that there was so much support from the community," Ms Schlebach said.
"There are some pretty good people in Whangarei, you know."
This Saturday's march will begin at 9am from the corner of Bank and Water streets in Whangarei, and travel through the city to the Town Basin, where Buddhist prayers will be said.
For those wanting to show more support, there will also be prayers said at the Buddhist Centre on Parakiore Rd, Kamo, from 7am on Sunday.