Dalai Lama's New Zealand visit risks China's ire
By Lincoln Tan, New Zealand Herald, Dec 15, 2008
Auckland, New Zealand -- Prime Minister John Key has said he will meet the Dalai Lama when he comes to New Zealand next year - one week after China retaliated against the French president for doing the same.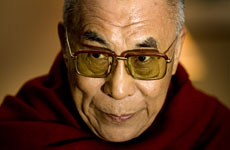 << The Dalai Lama. Photo / Kenny Rodger
The Dalai Lama will be visiting Auckland on December 6 next year to speak at Vector Arena and lead a session on Buddhist teachings.
"The Prime Minister will treat the Dalai Lama in the same way as any other significant visitor, and will meet the Dalai Lama should his diary permit," said a spokesman for Mr Key.
French President Nicolas Sarkozy's meeting with the exiled Tibetan spiritual leader last week resulted in Beijing retaliating by scrapping a China-EU summit in France and warning that multibillion-dollar trade deals could suffer.
Beijing described the meeting, held in the Polish city of Gdansk, as unwise, opportunistic and a shortsighted approach to handling the Tibet issue.
Mr Key's decision could also threaten trade and ties with Beijing. China routinely objects to foreign leaders meeting the Dalai Lama, whom Beijing accuses of seeking independence for his Himalayan homeland.
The Buddhist spiritual leader fled Tibet for India in 1959 amid an abortive uprising against Chinese rule.
Businessman Steven Wong, chairman of the United Chinese Association of New Zealand, warned that ties could suffer should Mr Key decide to meet the Dalai Lama.
"It is not a good move, and Mr Key will find it hard to find any Chinese here who will support his decision to meet the Dalai Lama."
Mr Wong was part of the Government delegation to Beijing this year led by then Trade Minister Phil Goff to sign New Zealand's Free Trade Agreement with China.
But the Prime Minister's spokesman insisted the meeting with the Dalai Lama will have "no reflection on the importance of the relationship between New Zealand and China, which is now one of our most important".
The chairman of the Dalai Lama Visit Trust, Thuten Kesang, said he was delighted at Mr Key's decision.
"I hope the Chinese won't over-react and turn the simple meeting between the two leaders into another circus. It would just be embarrassing for everybody."