Temple gives to tsunami victims
By JO TUAPAWA, Howick and Botany Times, 18 November 2009
Auckland, New Zealand -- GENEROSITY continues for those who suffered in the recent tsunami in Samoa.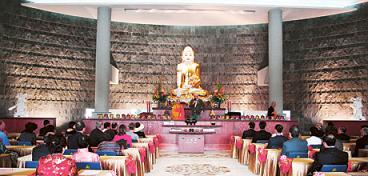 << COUNTING THEIR BLESSINGS: The ceremony at the Fo Guang Shan Buddhist Temple during its Cherry Blossom Festival. Photo supplied.
In a day of celebration, love, remembrance and empathy, the Fo Guang Shan Buddhist Temple on Chapel Road donated $2000 to the Red Cross to help people piecing their lives back together after the devastating tsunami in September.
The temple hosted an afternoon tea fundraiser, which was open to the public and those who attended its Cherry Blossom Festival.
"Under the beauty of the spring cherry blossoms, 45 couples gathered for the renewal of matrimonial vows blessing ceremony," says Venerable Miaoyu.
"Throughout the world cherry blossom signifies love and romance, hence the appropriateness of renewing vows on this day.
"However, cherry blossom also signifies the impermanence and intransigence of beauty and life making this an ideal time for the couples to reflect on their marriage."
She says the cherry blossom occasion also highlighted the multicultural nature of humanistic Buddhism.
Couples from India, Taiwan, Singapore, Malaysia, Hong Kong, Hungary and New Zealand participated in the ceremony.
"It enabled participants to think about the need for a harmonious family, which can be achieved through compassion with wisdom, tolerance and patience, regardless of whether they had been married for a short time or many years."
Venerable Miaoyu says the meaningful celebration of marriage and compassion with wisdom was appreciated, not only by the participating couples, but also supporters and onlookers.
"It was a very special and uplifting occasion which touched all."
"The fundraising afternoon tea was an opportunity for everyone to demonstrate their support and compassion for those affected by the natural disaster.
"We presented a cheque for $2000 to Robin Gregg, the president of the Howick and Bucklands Beach Red Cross."