His Holiness the Dalai Lama May Visit Holiest Buddhist Sites of Burma
The Tibet Post International , 16 December 2011
Dharamshala, India: -- The spiritual leader of Tibet, His Holiness the Dalai Lama expressed his desire last week to visit Burma to pay homage at the country's holiest shrine of the Shwedagon Pagoda in Rangoon, the capital of Burma.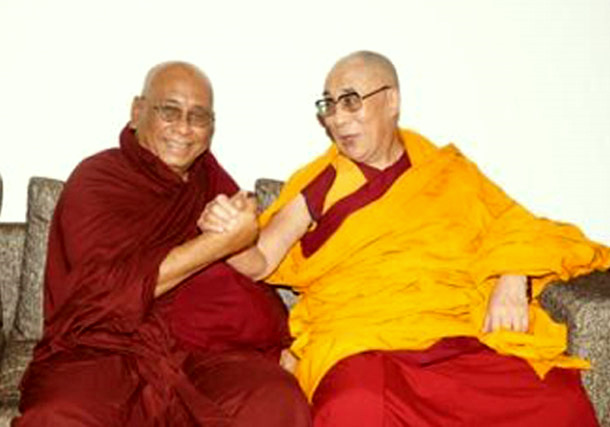 According to the Burmese media; 'The Irrawaddy.' A message of His Holiness the Dalai Lama was conveyed to leaders of Burmese Buddhist monks at the Global Buddhist Congregation 2011 held in New Delhi, India, on Nov. 27.
"His Holiness the Dalai Lama said he has a great friendship with Burmese monks because they are well-versed in Buddhist scripture and also strictly follow the code of conduct of monk-hood. And he wants to pay a pilgrimage to Shwedagon," said Ashin Nyanissara, an influential Burmese Buddhist monk who joined the event in Delhi.
Burmese Buddhist monks responded to the Tibetan spiritual leader by saying that he would be invited to Burma at an appropriate time, Ashin Nyanissara said in a note posted on the internet.
The report said that, it is not clear when the Tibetan Nobel Peace Prize Laureate intends to come to Burma or if the Burmese government, a major ally of communist China, would issue a visa. Naypyidaw has already angered Beijing recently through the suspension of the Chinese-backed hydropower dam project in northern Burma,
The Chinese government has frequently interfered with foreign nations granting the Tibetan spiritual leader entry to their countries. However, His Holiness the Dalai Lama has canceled his plans to join the 80th birthday celebration of fellow Nobel Laureate Desmond Tutu in South Africa this October. "There's no China's pressure being put on South Africa on this matter," Deputy Foreign Minister Marius Fransman told reporters.
His Holiness the Dalai Lama is seeking a solution to the Tibetan problem through genuine autonomy, which is compatible with the principles on autonomy in the Constitution of the People's Republic of China (PRC).
For many occasions, The Tibetan spiritual leader had raised his voice over Aung San Suu Kyi's house arrest in the region, strongly called for the release of the Nobel Peace laureate when he joined other Nobel Peace Prize winners, including Desmond Tutu, in Thailand in 1993. Thailand eventually agreed to provide him with a visa to attend the event despite fierce protests from Chinese government.