Devotees celebrate Buddhism and hope at Myanmar shrine where festival was banned 20 years
Associated Press, February 22, 2012
Myanmar Marks 2600th Anniversary Of Shwedagon Pagoda
YANGON, Myanmar -- Amid the towering golden spires of Myanmar's grandest Buddhist shrine there was talk of politics and hope for the future as thousands came Wednesday for the return of an annual festival that was banned for more than 20 years by the former military regime.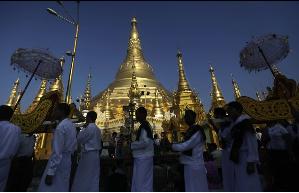 << Myanmar's women take part in the 2,600th anniversary celebrations of Shwedagon Pagoda in Yangon, Myanmar, Wednesday, Feb. 22, 2012. Gongs chimed as thousands of people in ceremonial costumes walked barefoot Wednesday through the marble walkways of Myanmar's most sacred Buddhist shrine in an annual festival that was banned for more than 20 years under the former military government.
Gongs chimed at Shwedagon Pagoda as the diamond-studded monument marked what is being billed as the 2,600-year anniversary of the temple, which according to legend houses eight strands of Buddha's hair.
More than a tribute to Buddhism, the event was a celebration of new freedom and the latest sign of change in this long-repressed country.
"The previous regime, they wanted people to be repressed, suppressed, quiet and stable," said Pyinya Wuntha, a saffron-robed monk who not long ago might have been jailed for saying such things. "Now the government has changed and the system has changed."
"They cannot control us by pointing guns at us anymore," the monk said.
For nearly half a century, the country was ruled by a secretive, xenophobic military regime that cracked down on any perceived dissent.
The junta ceded power last year to an elected but military-backed government that has surprised critics with an unexpected wave of reforms — freeing political prisoners, relaxing strict media censorship and allowing opposition leader Aung San Suu Kyi to run for parliament in April.
Fear that was so pervasive among the people of Myanmar is gradually giving way to greater confidence. Many people spoke candidly about the new government, without lowering their voices. Under the junta, it was taboo to discuss politics with foreigners and gatherings of more than five people were liable to a ban, due to the generals' fears of an uprising.
Smaller pagoda ceremonies that focused on religious rituals were allowed by the defunct military regime. But larger festivals, particularly at the Shwedagon, were seen as holding potential for trouble in this devoutly Buddhist country, where religion and politics have often mixed.
The Shwedagon was used as a rallying point for anti-government protesters in 2007 when monks led a pro-democracy uprising that the army quashed with deadly force.
It was against the backdrop of the Shwedagon's golden dome that Suu Kyi electrified a crowd of half a million people in 1988 with a speech that launched her career as opposition leader and Myanmar's icon of democracy.
After that, the ruling junta halted the annual pagoda festival at Shwedagon for what they called "security reasons," said Khin Maung Aye, a Buddhist scholar and an organizer of the event.
"My son is 22. He was born in 1989, and he has never witnessed the real Shwedagon Pagoda festival," he said. "I have dreamed of this for many years, but I dared not think it would be so big."
Perched on a hilltop, the Shwedagon Pagoda dominates the Yangon skyline, and is especially prominent at night, when floodlights make the golden temple glow brightly. In a country of great poverty it is a lavish shrine; the main spire is said to contain 4,351 diamonds, including a single 76-carat diamond at the top.
For the festival, Shwedagon's well-maintained grounds were spruced up with a half million orchids, dahlias and other flowers, organizers said.
The event opened with a morning procession of thousands of people in ceremonial costume walking barefoot along the temple's marble halls. Gongs clanged from all corners of the compound as hundreds of monks chanted and the government's Religious Affairs Minister, Myint Maung, came to pray.
A group of 12 monks are to take turns chanting nonstop until the full moon on March 7, when the celebrations will end.
Entertainment outside the compound will include traditional puppet shows and dancers, and a fairground with vendors selling handicrafts and food from around the country.
One frail older woman said she had read in newspapers that the festival was making a comeback, but she didn't believe it. So she traveled two hours by bus from her hometown of Oakkan, north of Yangon, to see it firsthand.
"It's a shame and a sad thing that the government in a Buddhist country took this significant festival away from us for so long," said Myint Kyi, whose husband held her upright for support.
"This makes me not only happy but excited," she said softly. "Now I realize there is some change in Myanmar. There must be if this is allowed."
---------
Associated Press writer Aye Aye Win contributed to this report.