Buddhists seek voice in strife-hit western Myanmar
by Amelie Bottollier-Depois, AFP, Oct 27, 2012
SITTWE, Myanmar -- Disgruntled by international support for Muslim Rohingya in unrest-hit western Myanmar, ethnic Rakhine Buddhists are demanding recognition of their own plight and venting a rage that veers into racism.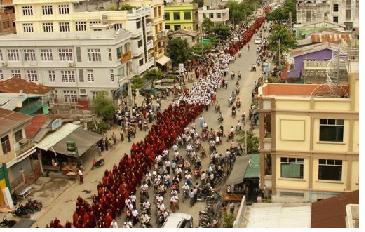 << Myanmar Buddhist monks rally on the streets of Mandalay (AFP, File Pic)

More than 150 people have died in communal clashes in western Rakhine State since June and thousands of homes have been torched, leaving some 75,000 people displaced, in a convulsion of violence that has torn apart neighbourhoods.
Losses have been incurred on both sides, but the international community has mostly focused on the fate of the area's Muslim Rohingya, long considered by the United Nations to be among the most persecuted minorities in the world.
But many Rakhine, whose state is one of Myanmar's poorest, are adamant it is in fact they who have been wronged, first by grinding years under the iron-fisted junta rule and more recently by rising numbers of Rohingya on their land.
"We have no right to speak, we are marginalised in the international arena," said Oo Hla Saw, general secretary of the Rakhine Nationalities Development Party.
In an attempt to push their point, hundreds have taken to the streets in recent weeks. Led by robed Buddhist monks, the demonstrators openly spoke of their desire to drive out the Muslim minority.
They also protested against plans by the 57-nation Organisation of Islamic Cooperation (OIC) to open an office in the country.
"We can live with many kinds of people, but not with the Muslims from here," said U Ohattama, a senior monk at Klak Kha Mout monastery. "The Muslims from here are like animals."
Many in Myanmar rail against the presence of around 800,000 Rohingya in their country, viewing them as illegal immigrants from neighbouring Bangladesh.
Myanmar authorities have for decades refused to provide the minority group with papers, rendering them stateless.
But despite their difficulties, ethnic Rakhine are quick to heap scorn on the assistance provided to the Rohingya by the United Nations and foreign charities.
"Rakhine society always relies on itself. Muslim people are always eager to rely on international aid when they have problems," said U Nya Na, leader of a monk association in Sittwe. "Rohingya are like beggars in a market."
The international community helps only the "kalar", agreed Myar San, a 28-year-old internally displaced Rakhine resident, using a derogatory term for Muslims.
She is one of several thousand ethnic Buddhists in the state who have been forced to take shelter in monasteries and camps since the recent communal violence made her homeless.
But whereas the Buddhists displaced have freedom of movement and can get to work, tens of thousands of Rohingya are trapped in squalid camps on the outskirts of the state capital Sittwe, relying on humanitarian aid.
Aid agencies refute accusations that their help is partial.
"We are there to help the people who are in need and our assistance is based on that criteria only, it is not based on any other criteria of race, ethnicity, religion," said the UN chief in Yangon, Ashok Nigam.
Mostly clustered in the north of Rakhine state, the Rohingya have for decades been subjected to movement restrictions, forced labour and land grabs, while access to education and health services has been limited.
But the ethnic Rakhine community would like the world to pay more attention to its plight.
With 44 percent of its population living under the poverty line Rakhine is the second-poorest state in one of the world's most impoverished nations, according to a UNDP report last year.
While the state is rich in natural resources, notably oil and gas, locals have benefited little and "this area became very poor because of the military dictatorship", according to Oo Hla Saw.
Like other "official" minorities in the ethnically diverse country the Rakhines suffered under the yoke of the junta for nearly half a century until it was replaced by a nominally civilian, reformist government in March 2011.
"This is a population that has faced terrible abuses... everything from forced labour to land confiscation, to other violence and abuses by the Burmese military," said Matthew Smith from Human Rights Watch, using Myanmar's former name.
But today, many ethnic Rakhine appear to have found an ideal scapegoat for their hardships in the Rohingya community, which they see as threat to the survival of their "race".
"Rakhine people are nearly a minority here," said businessman Ba Aung, 57, vowing not to rehire the three Muslims who worked for him prior to the outbreak of violence.
The current situation might have been even worse if hundreds of thousands of Rohingya had not sought exile in Saudi Arabia, Bangladesh or Malaysia over previous decades, observers say.
This fear of the Rakhines being "submerged" is quite real and explains their "radical" attitude, according to Jacques Leider, a Thailand-based scholar at the French School of the Far East.
"Some (Rakhines) recognise they grew up with an anti-Muslim, racist reflex that is difficult for them to undo today."
And if this reflex is likely to alienate the international community, Rakhines hope they can at least count on the new, more democratic administration in Naypyidaw to side with them on nationalist issues.
"The democratic government will follow the wishes of the ethnic Rakhine," Nya Na said with conviction.
The monk has at least one reason to be optimistic. In the wake of this month's protests, the government blocked the OIC from opening a branch in Myanmar.