Monks Stage Protest in Rangoon
By KYAW PHYO THA, THE IRRAWADDY, December 9, 2012
RANGOON, Burma -- Buddhist monks took to the streets in Burma's former capital on Saturday to show solidarity with fellow monks who were injured during a crackdown on protests late last month and to demand an apology from the country's president.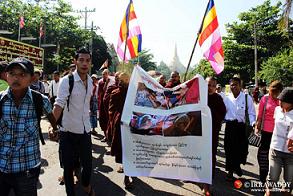 << Buddhist monks and their supporters march through downtown Rangoon to demonstrate against a crackdown on protests late last month. (Photo: The Irrawaddy)
In the latest display of political activism by the Buddhist clergy, more than a dozen Rangoon monks gathered under the shadow of Shwedagon Pagoda and marched to downtown Sule Pagoda at 1:30 pm yesterday.
Joined by nearly 100 laymen, the monks carried Buddhist flags and posters showing graphic pictures of monks suffering from severe burns caused by incendiary devices used by police in a pre-dawn raid on six protest camps near the controversial Letpadaung copper mine in Sagaing Division.
The Nov. 29 crackdown was the most violent response to civil disobedience since reformist President Thein Sein took office last year. More than 90 monks were hospitalized for injuries inflicted during the raid.
"We want to know who was behind the brutal attack on our fellow monks. We want the president say something to restore justice," said Pyinnya Wuntha, a 62-year-old monk, during the march.
"Burma is a predominantly Buddhist country but we have been inhumanly attacked since 2007 by authorities who boast that they are devout Buddhists," said another monk, referring to the crackdown on the 2007 monk-led Saffron Revolution.
Since the raid, small protests against the crackdown have erupted across Rangoon, and six people actively involved have been charged with inciting unrest.
However, the police did not interfere with yesterday's demonstration, nor were there any security forces to be seen during the hour-long rally.
Earlier this month, officials, including the religious affairs minister, apologized to the Sangha Mahanayaka, a senior monks body, for what happened during the raid.
"The government is going in the wrong direction. They are apologizing to those who were not affected by their attack," said Buddhist monk Aggha, 27, after reading out a five-point statement that included calls for a presidential apology, the immediate release of those detained and medical care for injured monks.
Meanwhile, hundreds of Buddhist monks in Mandalay, Burma's second largest city, and Monywa, a town near the copper mine, also staged protests yesterday.
In the wake of the raid, the government urgently formed a 16-member investigation commission headed by the Burmese opposition leader Aung San Suu Kyi to probe the incident and whether the mine should continue to operate. It has to submit its findings by Dec. 31.