Buddhist monks say words against the Letpadaungtaung final report
ElevenMyanmar.com, 14 March 2013
Yangon, Myanmar -- Buddhist monks injured in the violent crackdown at the Letpadaungtaung copper mine protest expressed their disagreement over an official report that suggested that the project to continue.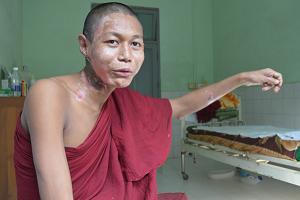 << A Buddhist monk under medical treatment for his buring injury at Yangon General Hospital
They also demanded that authorities look into those responsible people for the violent attack.
"We absolutely don't agree with the relocation of Buddhist buildings there. We Buddhist monks and novices risked our lives to protest against the project. I want to request all the people including monks in Myanmar to protect the historical legacy of Ledi Sayadawgyi," said Ashin Thitzana, an injured monk who just came back from Thailand for medical treatments.
The final report suggested that authorities should continue the Letpadaungtaung project. It also suggested that the Buddhist buildings located in the project site should be moved to a new suitable site without any damage to them should the project go on.
"Will the Buddhist people in Myanmar accept a mining if it removes Buddhist pagodas located in the mountains? I am very sorry to see the suggestions in the report to move the buildings. I also felt neglected the report didn't say anything about taking actions against those who are responsible for injuring many Buddhist monks," said Ashin Sandawbartha who is still under the treatment for burning at Thidagu Ayudana Hospital in Sagaing Region.
"We [Buddhist monks] are protesting against some of the information written in the report. But we also agree with some of them." said Ashin Wimala, the leader monk for Guardian Team for the injured monks.
"It's important that local people should decide whether the project should go or not. We will stand on the side of local people. We will protest against any case which can eliminate the Buddhist buildings. We want to see those responsible for hurting the monks taken action according to the law," he said.