Buddhist monks to preach without hurting other religions
Elevenmyanmar, 11 July 2013
"It is our duty to make people with weak faith to have stronger faith... Monks are the only method to make [them] have strong faith... The monks shouldn't act carelessly." - Ven. Dr Sandavarabivamsa
Yangon, Myanmar -- Esteemed monks from Mogok Vipassana League called for monks to preach in accordance to Buddhist teachings and not resort to hurting other religions.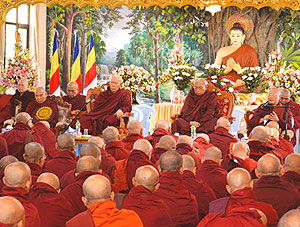 Over 150 monks from Mogok Vipassana League attended the ceremony on protecting nationality, religion and Sassana which was held at their headquarters in Yangon on Wednesday.
"[Monks] need to prioritise our own nationality, religion and Sassana and preach to make people believe while ensuring not to disturb other people and hurt other religions. We all need to avoid extremism and act in accordance with the truthful doctrine of the Buddha," said venerable monk Agga Nyana.
The meeting comes as Buddhist monks have come under the scrutiny of the international press. TIME magazine's July cover featured controversial Mandalay monk, U Wirathu citing cases of religious hatred and extremism. The article was met with strong condemnation in Myanmar, which is a majority Buddhist country, leading the government to ban the issue over fear of inciting more hatred.
"The world has accused us of being religious and social extremists. We have to keep denying this. We also have to prevent ourselves [from becoming extremists]. We have to build trust in Sassana. If we do this, our Sassana will not disappear in our lifetime," said senior monk Ven. Dr Sandavarabivamsa.
Religious violence between Buddhists and Muslims has spread across different towns and cities in Myanmar this year, often fuelled by rumours and hate speech. But as Myanmar embarks on a series of reforms opening up to the outside world many Buddhists feel that their time-old traditions are under threat.
This has led to numerous debates in the media about whether there should be law to protect religion. During the ceremony, Dr Sandavarabivamsa echoed opposition leader Aung San Suu Kyi, in saying that building peoples faith more than laws was what was important to maintain religion.
"It is our duty to make people with weak faith to have stronger faith. We have to make our devotees have strong faith in Sassana. Monks are the only method to make [them] have strong faith... The monks shouldn't act carelessly. We have to give sermons about religion," he added.