Myanmar's religious department prosecutes five Buddhist monks including London Sayadaw U Ottara
Eleven Myanmar, 21 June 2014 12:41
Yangon, Myanmar -- Five Buddhist monks, including London Sayadaw U Ottara [former Head of Buddhist Mission in UK], who were forcibly defrocked and remanded at Insein Prison were brought to trial at Tamwe Township Court in Yangon yesterday. The trial comes 10 days after their eviction from Maha Thanti Thukha monastery in Tamwe Township in a night raid on June 10.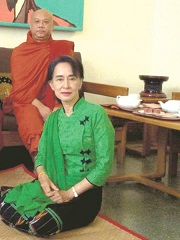 << London Sayadaw seen together with Aung San Suu Kyi (Photo-Tun Wai/ Japan)
The detained monks were taken in two Super Customs to the court for trial.
The trial was attended by lay people, about 50 Buddhist monks from various monasteries in Yangon, including revered monks Shwe Nya Wah Sayadaw, Magway Sayadaw U Pamaukkha, U Wirathu, the abbots from Dhamma Thukha Pariyatti Monastery, Thathana Zeya Mingala Monastery, Singapore Monastery, Dhamma Linkara Monastery, Sasana Mandaing Monastery and Mingala Zayone Monastery.
However, Mahana Phonegyis (monks from the government-backed State Sangha Maha Nayaka Committee) did not show up.
The five monks were charged by Sein Maw, head of Yangon Region Religious Affairs Department, as a plaintiff.
About 500 people also gathered in front of the court together with the disciples of the Penang Sayadaw, the abbot of the Maha Thanti Thukha Monastery, and members of 88 Generation Peace and Open Society and the opposition National League for Democracy.
They were shouting slogans "Immediately dismiss President's Office adviser Arnt Maung" and "Release the innocent monks."
The first-day court hearing lasted throughout office hours from 10am to 5pm, and the plaintiff, Sein Maw, was questioned. During the trial, only part of Section 295 (a) could be heard though the monks were charged under Section 295 (a) 20/90 of the Penal Code for religious offences. The trial will reportedly resume on June 27.
Sein Maw said it was true that the monks were charged according to the instructions from Mahana Phongyis and Yangon Region government. The instructions however did not say the monks are to be charged under Section 295 (a), he added.
"At today's trial, the head of Yangon Region Religious Affairs Department testified," said a defence lawyer, Nay La, who was hired by the British Embassy for London Sayadaw U Ottara.
"His statement was found contrary to the instruction of the regional government. The things that are not included in the instruction were only questioned. But, there was no cross-examination for both Mahana and government. It only happened beyond the instruction. I mean the plaintiff has charged the monks under Section 295 (a), which is not stated in the instruction."
The lawyer appealed to the court for the release of monks on bail, saying that they remained monkhood although they had been disrobed and that the people would be saddened by their continued detention.
Later, the court judge released the five on bail. The bail for each defendant was Ks 20 million (US$20,000)—Ks 1 million for each charge.
Altogether 10 of their disciples showed property assurances in order to help release the five monks on bail.
They have re-entered monkhood at a three-storey monastery building situated in Natchaung Quarter, Tamwe Township.
"We've got another court hearing on June 27. When we are tried, there should be the law that can protect all the citizens. If the court follows that law, the political status would be fine. We don't accept any false accusation. What I want to say to the Sangha and Mahana is to convince themselves whether they are fair or not," said U Ottara.
The Ministry of Religious Affairs, Yangon Regional Government, Mahana and police forces raided the Maha Thanti Thukha Monastery at 10pm, on June 10 and captured 21 monks. On June 12, 16 of them were released and five monk disciples of the Penang Sayadaw were disrobed and remanded at Insein prison on June 13.
It has been reported that the five monks – Sayadaw U Ottara (Age 49, Vasa 29 [his tenure as a monk]) holder of master degree in Dhamacariya, from Thathanayanthi Monastery (London); U Panyarsara (Age 49, Vasa 29) holder of master degree, from New Dawei Monastery; U Thondarathiri (Age 33, Vasa 13) holder of master degree in Maha Dhamacariya, Thingyun Monastery; U Nandiya (Age 29, Vasa 9) (Dhamacariya), Zayyamingalar Monastery from Hlaing T/S; U Tayzeinda (Age 45, Vasa 25) (Maha Dhamacariya), Na.Pa.Tha Monastery from Yangon – have been released on bail.
They were charged for religious offence under Section 295 (a) 20/90 of the Penal Code. At the Ministry of Religious Affairs press conference, President's Office advisor Ant Maung said the monastery raid was carried out because the monks violated religious disciplinary rules and trespassed on the monastery grounds.
Penang Sayadaw, abbot of MahaThandiThukha monastery, yesterday lashed out at the authorities for defrocking five monks before investigating their alleged religious offence. "The defrocked and detained monks are staying as guests of the monastery. U Ottara does not have the residency at the monastery. He has been travelling back and forth between London and Myanmar. U Pannawura came to Yangon to attend a Sayadaw's funeral. U Thondnara is visiting to help SayadawGyi. U Nanniya has come at the invitation to take care of me. This is for a month. For next month, a Rakhine monk would be staying for a while. While I am abroad, they are helping as per assignments given by SayadawGyi."
The five are being detained at Insein prison, according to news reports.
Related story: Five Buddhist monks defrocked and remanded for religious offence