Mahasantisukha monks' request to countersue Buddhist council rejected, again
By AYE NAI, DVB, 5 August 2014
Rangoon, Burma -- A second attempt by five Buddhist monks from the Mahasantisukha Monastery in Rangoon to countersue the government-backed Sangha Maha Nayaka Committee – the highest order of Buddhist monks in the country – has been rejected by a local court.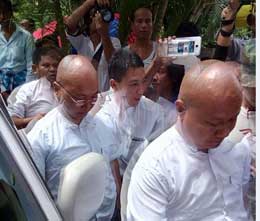 << Buddhist monks, led by Uttara (front), are led to court in Rangoon's Tamwe Township in June. (PHOTO: Khaing Min/ FB)
On 10 June, police and the Sangha Maha Nayaka – more commonly known as the Mahana – raided the Tamwe Township monastery and detained five monks over a longstanding dispute for the monastery. The monks, including prominent Buddhist leader Uttara, were subsequently defrocked and charged for defaming religion, a move widely denounced by the Burmese public and religious leaders.
Last month, the five monks attempted to file charges against the 20 leading members in the Mahana for their "arbitrary detention and arbitrary restraint" at the Bahan Township court, but were summarily rejected.
Uttara said that their second attempt to file charges in the Tamwe Township court was also dismissed.
"Previously, Bahan Township rejected our motion to seek charges against the Mahana on 'administrative grounds', as the case is connected to an ongoing trial at the Tamwe Township court where we are being prosecuted," Uttara said. "So we tried approaching the Tamwe Township court and they also rejected us, citing the ongoing trial against us."
As the ownership dispute simmers between the Mahana and the revered Abbott Penang Sayadaw – who locals around the area consider the rightful owner of the monastery –Uttara said that their lawyers have been unable to adequately defend them without interference.
"In the 12 June trial, we were trying to present as evidence a letter by the revered Abbott Penang Sayadaw to President Thein Sein, calling on him to mediate the dispute, but the court rejected it," Uttara said. "Our lawyers called to adjourn the trial on the grounds that turning down our evidence constitutes abatement."
With the trial currently on hold, Uttara said that their lawyers have now proposed this piece of evidence at the Eastern Rangoon district court, which will make a decision before the lower court trial resumes on 15 August.