Buddhist Peace Conference Kicks Off With Presidential Cameo
By ZARNI MANN, THE IRRAWADDY, January 22, 2016
MANDALAY, Myanmar -- A diverse crowd of religious figures from around the world convened in central Burma on Friday for the start of the World Buddhist Peace Conference, an ambitious event with the stated aim of bridging religious differences in Burma and abroad.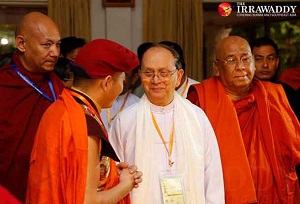 << President Thein Sein, center, and Sitagu Sayadaw, right, attend the World Buddhist Peace Conference in Sagaing Division on Jan. 22, 2016. (Photo: Zaw Zaw / The Irrawaddy)
Burmese President Thein Sein addressed hundreds of attendees at the opening event in Sagaing Division, calling on leaders to unite against extremism in the face of growing religious polarization.
"I would like to kindly urge world religious leaders, political leaders and national leaders around the world to join hands and teach their followers to practice the middle way and avoid extremism," Thein Sein said, in what will likely be one of his last major public speeches before his term ends in late March.
The three-day event was organized by the Sitagu International Buddhist Academy, founded in 1994 by Sitaugu Sayadaw U Nyar Neitthara. Also speaking at the opening remarks on Friday, the well-known Burmese monk cautioned against discrimination.
Some 500 people were invited to the conference, representing an array of faiths from about 50 countries worldwide. Australia, Bangladesh, China, Ethiopia, India, Iran, Norway, South Africa and the United Kingdom were all represented at the event.
Messages of support were also received by the event's organizers from the United Nations refugee agency, the office of the European Union in Burma, the US Embassy, Prime Minister Sheikh Hasina of Bangladesh and religious figures who could not attend.
According to the conference's organizing committee, much of the event will focus on experience sharing among experts from conflict-torn countries where religion and racial differences have exacerbated tensions. Organizers said they hoped the event would help repair the image of Burma's Buddhists, as some elements within the country's religious majority have been viewed as extremist.
Relations between Burma's majority Buddhists and minority Muslims have deteriorated in recent years, with 2012 violence between members of the two faiths in Arakan State killing more than 100 people and displacing an estimated 140,000 additionally. Most of those affected by the communal conflict in western Burma were members of the persecuted Rohingya Muslim minority.
While nothing on that scale has occurred in the years since, sporadic violence at disparate locations across the country has served to highlight extant underlying tensions between the two religions, and ushered in the rise of a powerful Buddhist nationalist movement that has only recently receded from the public sphere.
Special guests opened the ceremony with a message to the world's youth that all religions share a common goal of peaceful coexistence.
"We want to tell the youth here that being extreme is not being religious," said Uadim Polianskii, chairman of the Jewish Society of Aesthetics and Physical Training in Russia. "Every religion practices peace and love. If each of us understands the true meaning of our religious practice, we will live peaceful and harmonious lives."