Former Myanmar president Thein Sein 'becomes a monk': State media
The Straits Times, April 5, 2016
YANGON, Myanmar -- The retired junta general who steered Myanmar's last five years of reforms has temporarily become a monk, according to state media, days after he ceded power to a new government led by Aung San Suu Kyi's pro-democracy party.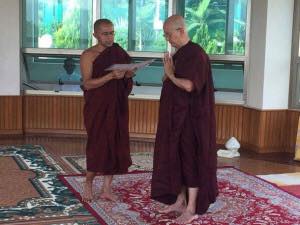 Pictures widely shared on social media showed a shaven-headed Thein Sein wearing his trademark spectacles and draped in the deep maroon robes of the Buddhist clergy.
Myanmar language state newspaper Myanma Alinn said he had entered a monastery in the central town of Pyin Oo Lwin on Monday for a five-day stint, taking the monk title "U Thandidamma".
"Those close to U Thein Sein said he will practice meditation during a temporary monkhood of about five days," the paper said.
It added that he had promised Buddhist elders he would be ordained as a monk once he finished his role as president.
Spending periods in the monkhood is common for Buddhist men in Myanmar, where young boys are expected to spend at least three days as novices in monasteries during their childhood.
Thein Sein, a former junta general, led Myanmar's quasi-civilian transitional government through five stunning years of reform, as the nation opened up to the world after decades of repressive and isolating army rule.
Only a few years earlier the junta led a violent crackdown on largely monk-led protests that were dubbed the "Saffron Revolution".
The unobtrusive 70-year-old handed power to Suu Kyi and her proxy president Htin Kyaw last week.
While not in parliament he is expected to continue to lead his army-backed party, now in opposition after Suu Kyi's party won landmark November polls in a landslide.