Buddhist nationalist group threatens stability in Myanmar
by MOTOKAZU MATSUI, Nikkei Asian Review, June 29, 2016
YANGON, Myanmar -- An anti-Muslim Buddhist nationalist group in Myanmar is rapidly extending its influence, growing into a political force that could pose a serious challenge to the leadership of Aung San Suu Kyi.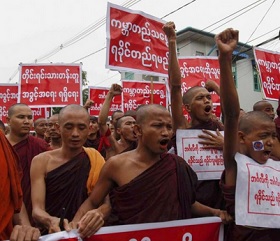 << Buddhist monks attend a June 4 event in Yangon to celebrate the third anniversary of Ma Ba Tha, an anti-Muslim Buddhist nationalist group.
The group, known as Ma Ba Tha, holds rallies that attract huge crowds, a sign that its message strongly appeals to many people in the country.
Ma Ba Tha is winning popular support by playing on people's fears about a sharp increase in the Muslim population. The group's growing clout may soon force Suu Kyi, who leads the government as state counselor, to start tackling touchy religious issues she has been carefully eschewing so far.
Show of strength
At 6:00 a.m. on June 4, a dense throng of monks in orange and maroon robes were gathering at a monastery in Yangon's Insein township. In the precincts of the monastery, dotted with golden pagodas, rows of luxury foreign automobiles with special yellow license plates for religious leaders were parked. These vehicles are a conspicuous indicator of the wealth of senior Buddhist monks in the country.
Inside a main hall, sparkling chandeliers lit up an image of Buddha decorated with jewels.
More than 1,000 monks had come to the monastery to attend a ceremony to celebrate the third anniversary of Ma Ba Tha, or the Committee for the Protection of Nationality and Religion.
"Our aim is to defend national unity and culture," said the chair of the organization, Tiloka Biwuntha, whose name is Tilawka Bhivamsa. He is also known as Insein Ywama Sayadaw.
"Women in Myanmar suffer persecution by members of another religion day after day," the head priest said in an ominous tone. "Muslim 'sham citizens' are trying to become true citizens by deceiving the country."
As the leader ratcheted up his anti-Muslim rhetoric, the sound of voices in prayer coming from the audience also got louder, echoing strongly within the hall.
Ma Ba Tha, launched in June 2013, now has 250 branches across Myanmar and 5 million supporters, according to a public relations official. The group's rally was held in Yangon's Thuwana National Stadium and drew a full-capacity crowd. The core tenet of the group is the rejection of Muslim immigrants, whose population is surging.
A divide grows
Buddhism arrived in Myanmar by the 11th century and has thrived in the Southeast Asian nation. Devotees of Theravada Buddhism account for about 90% of the population. Myanmar's constitution gives Buddhism the status of "special religion" representing the country, and it is at the heart of nationalism among the people of Myanmar.
Muslims, who originally migrated from India and other neighboring countries to Myanmar's western state of Rakhine and Yangon, the largest city, form a minority group.
Starting in the 1990s, the military government suppressed Islam and other minority religions to win the support of Buddhist organizations. This has further enhanced Buddhism's status as an effective national religion.
But the process of democratization, which started in 2011 and led to the opening of the country's border, has triggered a massive influx of Muslims, including illegal immigrants, from Bangladesh and other countries. Observers predict that the results of a national census to be announced in August will show Muslims now constitute 10% of the country's population.
In the state of Rakhine, the principal flash point of religious conflict in the country, Muslims represent an estimated 30-40% of its population of 2 million. Many of them describe themselves as Rohingya Muslims, who are believed to have migrated to Myanmar during the period of the British rule of Burma.
As they have started demanding citizenship, tension has grown between the Muslims and the majority Buddhists.
Rising tensions
The 2012 murder of a Buddhist woman triggered a wave of violence between Buddhists and Muslims in Rakhine resulting in over 200 deaths.
The administration of then-President Thein Sein responded to the riots by segregating Rohingya Muslims in suburban refugee camps under the pretext of maintaining law and order. Several thousands of Rohingya fled the wretched living conditions at the camps and sailed on small boats to Malaysia and Indonesia as refugees. This has provoked international criticism against Myanmar.
The riots further fueled anti-Muslim sentiment among Myanmar's Buddhist majority, which has been behind the rapid expansion of Ma Ba Tha's influence.
On June 5, the group adopted a statement demanding that the government build a wall along Myanmar's border with Bangladesh and impose strict immigration control to prevent the illegal entry of Muslims into the country.
Ma Ba Tha is not a small-scale movement supported only by conservative monks. During the June 4 event, a throng of ordinary citizens gathered in front of a huge screen installed outdoors for public viewing.
One of the citizens watching the event, a 38-year-old female teacher, said she was telling her children not to associate with and never get married to a Muslim. There is no room for Rohingya in the country, she said, adding that Ma Ba Tha is the only organization that can prevent the influence of Islam from spreading in Myanmar.
A 45-year-old carpenter echoed her sentiment, saying, "I hate Muslims, who justify killings in the name of god. I want schools to enhance Buddhist education."
Many of the citizens who attended the event were intellectuals, including lawyers and doctors, which suggests broad public support for the group.
Enter the political realm
Ma Ba Tha started as a cultural movement for protecting Buddhist communities, but the movement has quickly taken on a strong political hue.
The group's political campaigns have been led by Ashin Wirathu, a radical monk from Mandalay known for his incendiary anti-Muslim speeches. Since the era of military rule, Ashin Wirathu has been championing anti-Islam measures, such as boycotting stores run by Muslims. He once was imprisoned for extremist activities.
But the monk is gaining political clout with the government.
In September 2015, a new law to protect Buddhists came into force. The law restricts marriages between Buddhists and people of other faiths and has a provision for criminal punishment against violations. Ashin Wirathu's group developed the draft bill and lobbied the Then Sein government to enact the law.
In the general election in the autumn of 2015, Ashin Wirathu campaigned for Thein Sein, who enacted the law, and criticized Suu Kyi's National League for Democracy for being lackluster in protecting Buddhism.
The NLD, which came to power by winning a landslide victory in the election, views Ma Ba Tha and Ashin Wirathu as potential political threats to its government as the group is gaining popularity with its increasingly radical messages.
During the June 4 event, about 500 copies of Wirathu's book on his Buddhist views were sold within hours.
Suu Kyi has been sidestepping the issue of Rohingya since even before the election, although she has now made some moves to win over the group. A senior Suu Kyi aide recently met with Ashin Wirathu and told him the NLD places much importance on Buddhism.
The new government appointed Thura Aung Ko, a former general who has repeatedly made anti-Muslim remarks, as minister for religious affairs and culture, in a bid to placate conservative Buddhists.
By compromising with radical anti-Muslim Buddhists, however, Suu Kyi risks alienating the U.S., which is urging the government to protect the rights of Rohingya. International human rights groups are also becoming increasingly more critical of Suu Kyi's failure to take effective action to intervene in the religious conflict between Buddhists and Muslims in her country.
-------
Nikkei staff writer Thurein Hla Htway contributed to this report.