Myanmar jails Dutch tourist for pulling plug on Buddhist sermon
Japan Times, Oct 6, 2016
MANDALAY, Myanmar -- A Myanmar court on Thursday jailed a Dutch tourist for three months with hard labor for insulting religion after he unplugged an amplifier relaying a late-night Buddhist sermon.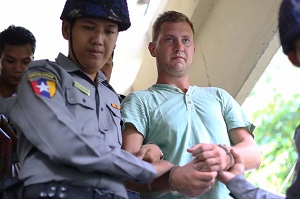 << Klass Haytema, a detained Dutch tourist, is escorted by Myanmar police in Mandalay on Thursday after he was sentenced to three months with hard labour in a Myanmar jail for disconnecting an amplifier blasting a late-night Buddhist sermon in the northern city of Mandalay. | AFP-JIJI
Klass Haytema, 30, was arrested two weeks ago after he pulled the plug on the Buddhist service held near his hotel in the northern city of Mandalay, complaining about the noise.
Slights against religion are treated with extreme seriousness by the courts and a pious public in Buddhist-majority Myanmar.
Delivering the ruling, a judge on Thursday said Haytema was "clearly guilty" of insulting religion and was "sentenced to three months imprisonment with hard labor."
The Dutchman, who cried while the sentence was read, also opted to pay a fine of 100,000 kyat ($80) rather than serve another three months for violating the terms of his visa, which requires tourists to respect local customs.
Haytema apologized during previous hearings, according to local media, saying he did not realize what he was doing and simply wanted to sleep.
He was also accused of insulting Buddhism by not taking off his shoes when he entered the prayer hall.
Haytema is one of several foreigners to recently fall foul of the law, which criminalizes "voluntary" disruption of a religious ceremony.
In July, a Spanish tourist was deported after monks complained about a tattoo of Buddha on his leg.
Last year a New Zealand bar manager also spent 10 months in jail for "insulting religion" by using a Buddha image to promote a cheap drinks night.
Religion is an important part of daily life for many across the devout country, where crimson-robed monks walk the streets every morning and prayer halls regularly blast hypnotic chants on loudspeakers late into the evening.
The nation has also battled a rising tide of radical Buddhist nationalism in recent years, with Mandalay a stronghold of the monk-led movement.
The clash of cultures has become a growing problem as the former junta-run country sees a surge in tourism under a new civilian government, the first in half a century.
Other countries in the region have also chafed at irreverent portrayals of the Buddha.
In neighboring Thailand, posters in airports warn arriving visitors not to buy figurines or get tattoos of the holy figure.