Myanmar State Buddhist Authority Stands its Ground
By Htun Htun & Pe Thet Htet Khin, the Irrawaddy, 18 July 2017
YANGON, Myanmar -- The State Buddhist Sangha authority - also known by its Myanmar acronym Ma Ha Na - will not issue further instructions regarding the signboards of Buddhist ultranationalist association Ma Ba Tha, said Sayadaw Bhaddanta Pandavabhivamsa, a Ma Ha Na member.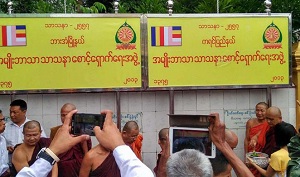 << An old Ma Ba Tha signboard at Thayettaw Monastery in Karen State's Hpa-An was replaced with new one on July 16. / Karen State's Hpa-An City
"It has been officially announced that actions will be taken for failure to follow the instruction. There is no need to give further orders," the Sayadaw told The Irrawaddy.
Ma Ha Na banned Ma Ba Tha from operating under its current name on May 23 and ordered it to take down its signboards by July 15. But Ma Ba Tha chapters in Mandalay and Karen State's Hpa-An have not followed the instruction. On Sunday, Karen State's Ma Ba Tha chapter replaced their old signboard with a new one.
Leading Ma Ba Tha monks in Mandalay and Karen State have explicitly refused to take down the signboards. They argued that the association was formed in line with the 2008 Constitution and Association Law and was not a terrorist organization.
"We've not breached any rules or regulations of Buddhist law. It is up to them [the government] whether or not to take action. We are firm in our stance and will face the consequences in line with the law," Ashin Yasa of the Mandalay Ma Ba Tha chapter told The Irrawaddy.
U Zarni Win, deputy permanent secretary of the Ministry of Religious Affairs and Culture, said his ministry would not give further instruction and that senior monks could decide what action to take.
"They [Ma Ba Tha] are expressing their stance, and we, the government and Ma Ha Na, have expressed our position in state-run news. It now falls under the responsibility of concerned divisional and state governments," he said.
"According to the 1990 law relating to the Sangha organization and existing laws, action will be taken by the Ministry of Home Affairs against any monks or lay persons that violate the ban," a statement released by Ma Ha Na on May 23 reads.
The penalties of Sangha organizational law say any monk or novice who violates the law will be punished with a period of imprisonment ranging from six months to three years.