Foreign Buddhist association funds delta housing project
by Cherry Thein, Yadana Htun and Shwe Yinn Mar Oo, The Myanmar Times, Jan 13, 2009
Kungyangon, Myanmar -- CONSTRUCTION started last month on a project to build more than 1000 new houses in Kungyangon township, Yangon Division, for survivors of cyclone Nargis.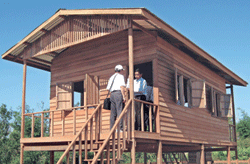 << Donors inspect houses under construction in Kungyangon township in Yangon Division.
Pic: Cherry Thein
The project is being led by the Dharma Chakkra Child Foundation based in Sri Lanka and funded by donations from the Taiwan-based Theravada Samadhi Education Association.
Members of the foundation – led by the Venerable Dr Bodagama Chandima Thero, an advisor to the president of Sri Lanka on international religious and cultural affairs – travelled to Kungyangon on December 30 to attend the foundation ceremony and present their donation.
"I discussed housing issues in June with Myanmar government officials and they requested me to build houses wherever I could," he said.
He said the new village – located near the villages of Nyaung Ngu and Kamaper – will be named Metta and will consist of 1024 houses, each costing US$600. The project will be built by the local Taw Win construction company and is expected to be finished before the next monsoon season.
A delegation of Sri Lankan donors led by Dr Bodagama, accompanied by members of the Taiwanese association, also donated clothes, school supplies and food to more than 1000 households in Nyaung Ngu and Kamaper villages.
"The fact that we are from Buddhist countries forms a bond between us. I consider the people of Myanmar as my people," Dr Bodagama said.
One member of the Theravada Samadhi Education Association who attended the ceremony said he was glad to help the people of Myanmar.
"I want to contribute as much as I can to Dr Bodagama's work in Myanmar because it is a blessing to help the needy," he said.
Meanwhile, Dr Bodagama and the donors from Taiwan also attended a ceremony on December 28 to mark the reopening of a school for primary students in Kungyangon township that had been destroyed by cyclone Nargis.
The donors had provided US$35,000 for the project, which was started last October.
"When we came to Myanmar for the second time in August after Nargis, we saw that all the buildings of the school were completely destroyed by the cyclone," Dr Bodagama said at the ceremony. "We also saw that about 100 children had to sit on the floor of a temporary building to study. "
"We feel very happy today, as we were able to build new school buildings for these children. I hope that a group of good citizens will come out of this school," he said.
Mr Chamal Jayantha Rajapaksa, the Sri Lankan Minister of Ports, Aviation, Irrigation and Water Management, said he believed the new school would help support the educational pursuits of local students.
"We had a similar experience with the [December 2004] tsunami so we have sympathy for the sufferings of the Myanmar people. We want to provide as much aid as we can," he said at the ceremony.
Mr Bodagama and his fellow donors also gave 360 bags of rice to Aung Zabu Monastery, where more than 1200 primary and middle school students are studying.
The association has provided about $500,000 in humanitarian aid to Myanmar since the cyclone.