Aung San Suu Kyi gives robes to monks, nuns in Buddhist rite
Deutsche Presse-Agentur, December 8, 2010
YANGON, Myanmar -- Myanmar opposition leader Aung San Suu Kyi on Wednesday took part in public religious services for the first time since her release from house arrest.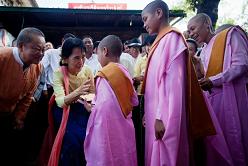 << Myanmar democracy icon Aung San Suu Kyi hands out donations to Buddhist nuns at the National League for Democracy (NLD) headquarters in Yangon on December 8, 2010 in Yangon, Myanmar. Over a thousand Buddhist monks and nuns gathered to receive a yearly donation from the NLD. The donation included clothing, slippers, umbrellas and money.
Photograph by: Drn, Getty Images
Suu Kyi offered donations of robes to about 700 Buddhist monks and 200 nuns gathered in front of the headquarters of her National League for Democracy (NLD).
"We (usually) make this activity every Tuesday, but we moved it to Wednesday this week because Daw Suu (Aunt Suu) was not free on Tuesday because she was sending her son off to the airport," an NLD member said.
Suu Kyi's youngest son Kim Aris, 33, returned to Bangkok on Tuesday after a two-week visit to his mother in Yangon.
Aris, who lives in Britain, was allowed to visit his mother for the first time in a decade following her release from house arrest on Nov. 13.
"I saw an old monk dropping tears from his eyes when she offered a robe to him. Then the monk gave back jasmine flowers to her," a witness told German Press Agency dpa after Wednesday's rite.
Suu Kyi, 65, enjoys wide support among the Myanmar population although she has been kept from public view under house arrest for 15 of the past 21 years.
Since her release, she has kept up a busy schedule of meetings with supporters, friends and family.
She spent Monday with Malaysian-born Hollywood actress Michelle Yeoh, who portraying her in a French film, Dans La Lumiere (Into the Light), due for release next year.
On Tuesday, U.S. Deputy Assistant Secretary of State Joseph Yon met with political party and non-government organization leaders.
He was the first high-ranking U.S. official to visit Myanmar since the country's first elections in two decades on November 7, which the ruling junta won amid accusations of restricting the opposition's participation.
Yon was scheduled to meet with junta's officials in the administrative capital Naypyitaw later Wednesday and was due to meet Suu Kyi on Friday before departing.