Thailand: Bogus monks exploit Buddhism
The Bangkok Post, March 26, 2011
While many saffron-robed foreigners are genuinely interested in studying religion, some are entering Thailand illegally to beg for money from the public
Bangkok, Thailand -- The presence of more than 300 foreign Buddhists at a Bangkok temple has raised concerns that some might be bogus monks begging for money and preying on people.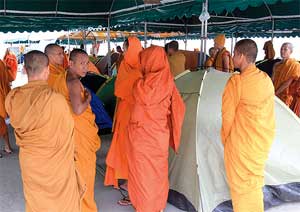 << Almost 300 foreign monks live in tents at Wat Talom in Bangkok's Phasicharoen district where six Burmese monks, a Mon monk and a Cambodian novice were arrested on charges of illegal entry to the country last week. TAWATCHAI KEMGUMNERD
Officers from the Immigration Bureau, Thammasala police station and the National Buddhism Bureau inspected Wat Talom in Phasicharoen district early on March 17 following complaints that hundreds of foreign monks had sought shelter at the temple.
The team found about 300 monks and novices from various countries such as Sri Lanka, India, Bangladesh, Cambodia, Laos and Burma living in tents on the temple grounds.
Many had entered the country legally, with some carrying tourist visas and some using foreign students' visas.
Eight, including six Burmese monks, one ethnic Mon monk and one Cambodian novice, failed to produce travel documents and ordination certificates.
The eight were defrocked and sent to the Immigration Bureau on illegal entry charges.
Pol Col Chartchai Iamsaeng, deputy commander of the Immigration Bureau's investigation centre, who led the inspection, said members of the public had complained that many monks, thought not to be Thai nationals, lived in the temple and some went out in the afternoon to collect alms, which was against Buddhist teaching.
Phra Maha Boontheung Chutinatharo, abbot of Wat Talom, said the foreign monks had entered the country legally to study dhamma and some wanted to visit Thailand.
Many monks from overseas wanted to study here as Thailand was known for its Buddhism studies. "Residents living near the temple might not be aware that many monks staying at the temple are foreign monks who entered the country to study Buddhist teachings," said the abbot.
"Those foreign monks do not have the same custom of completing their alms-collecting by 10am, the way we do."
Nopparat Benjawattananan , director of the National Buddhism Bureau (NBB), said 1,057 foreign monks sought permission from his office to live in the kingdom last year.
Most came from Cambodia with 279, followed by Bangladesh 264, Nepal 131, Burma 104, Laos 46, China 34, Malaysia 33, Vietnam 29, the United States, 23, and Indonesia 18. The rest were from other countries, he said.
Thailand's reputation as a haven for Buddhist studies had opened the way for gangs to enter the country under the guise of being foreign monks, said the NBB director.
A source said Singapore and Malaysia had also grappled with problems of bogus monks begging for money.
Mr Nopparat said the NBB could not control foreign monks who had not registered with his agency.
Bogus monks had entered the country using tourist visas.
The NBB did not know how many foreign monks had entered the country. Foreigners wanting to study at Mahachulalongkornrajavidyalaya University or Mahamakut Buddhist University could directly seek permission from those two Buddhist universities.
Mr Nopparat said he would invite representatives from the two universities to discuss the registration of foreign monks with his agency to ensure better controls.
Kai (real name withheld), 40, who lives near Wat Talom, said most foreign monks had left the temple following news reports about their presence.
However, he believed some of the monks were still staying in the country, begging for money.
He said they would probably return to the temple after news about them faded away.
"The problem started about 10 years ago when the temple changed abbots," he said.
Boonchai Chuecharnwong, a businessman in Bang Bua Thong area, condemned those who wore saffron robes to exploit Buddhism.
Monastic police patrol city
Many people know the city administration is responsible for ensuring the safety of Bangkok residents. Its city inspectors or thetsakit officials are assigned to help police guard the city.
But only a few people know about the monastic police whose task is to protect Buddhism.
The National Buddhism Bureau formed a group of officials to monitor the wayward activities of Buddhist monks in Bangkok and surrounding provinces a long time ago.
The monastic police look for monks who fail to adhere to their vows or are involved in disciplinary or legal wrongdoing and report their misconduct to the bureau. The bureau will alert the police, who apprehend the monks, said Udom Songkhajorn, a bureau official.
There are about 15 monastic police officers in Bangkok. The officials are divided into four teams.
The duties of the monastic police are similar to those of thetsakit officials as they have no authority to make arrests. They only pass on information as whistleblowers.
Monks accused of breaching Buddhist teachings or involved in wrongdoing will be investigated by a panel of monks. If there is a basis to the accusation, the monks will be defrocked.
Mr Udom said cases against wayward monks in the provinces would be handled by provincial Buddhism offices.