Blind clearly see Buddhism's light
Story by PENCHAN CHAROENSUTHIPHAN, The Bangkok Post, April 7, 2005
Camp shows young people that visual disabilities do not obscure path to enlightenment
Bangkok, Thailand -- About 40 blind youths who joined a dharma camp at Sathian Dharma Satharn centre in the Ram Intra area have learned that sight is not essential for achieving happiness or enlightenment.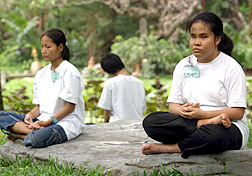 << Youths with visual disabilities from the Thailand Association of the Blind practise meditation at a camp for the blind at Sathian Dharma Satharn centre in Ram Intra. -- CHANAT KATANYU
The camp was organised by the centre and the Thailand Association of the Blind for visually disabled youths in the city. A similar three-day camp will take place in the provinces.
Noppadol Boonleelakul, a 23-year-old student at Srinakharinwirot University, said it was a great opportunity for him to practise dharma and listen to Buddhist teachings from monks and a nun.
He said the experience made him relaxed and gave him a new perspective about living under dharma principles and philosophies.
''I'm happy, especially while doing meditation walks, when I set my feet consciously on the ground. Though we can't see things, we feel everything around us - the shade of trees and the sounds of grasshoppers,'' he said.
Mr Noppadol, who studies piano and has released his first album, Joe the Pianist, said he was impaired visually, not spiritually, and he understands Buddhist teachings well.
He had first-hand experience with karma after stealing friends' Braille paper when he was a child. He will try to make up for bad karma by doing good deeds and teaching piano at the Bangkok school for the blind.
Onchaporn Shinsrisook, 15, a student from Sri Ayutthaya School, said she was impressed by Nun Sansanee Sathiansut's remarks that the blind could make their lives worthwhile by doing good deeds.
''I am often upset and angry and quarrel with friends when they tease me. In fact, blindness is a fact that I should accept. I should live my life wisely. I was born blind, but am good enough to do anything sighted people can do,'' she said.
She dreams of being a teacher for the blind.
Sasima Mameemai, a Thailand Association of the Blind staff member, said the camp allows young people to learn and apply Buddhist teachings to their everyday lives so they can live happily and virtuously despite obstacles.
She thanked Nun Sansanee, who owns Sathian Dharma Satharn centre, for allowing blind children to join the camp.
At the camp, Nun Sansanee preached under the shade of a large bodhi tree in the centre compound. She told young people to live their lives with tolerance, love and generosity. ''We should live our lives by helping others without bias, like the shade of a tree which benefits everyone equally,'' she said.