Thai Monks Struggle to Keep a Flooded Temple Open
by JAMES HOOKWAY, WSJ, Nov 27, 2011
BANGKOK, Thailand -- At the Glass Lotus Temple in northeast Bangkok, the Buddhist monks know how the flood inundating their country affects everything in daily life—even death.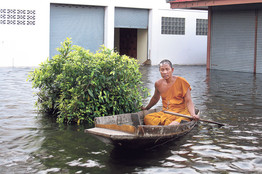 << A monk steers his canoe through the buildings at the flooded Glass Lotus Temple in Bangkok.
Central Bangkok is mostly dry, but in some pockets of the city, floodwaters are still making life difficult for locals, including monks at the Glass Lotus Temple. WSJ's James Hookway reports.
The waters have disrupted all sorts of ceremonies at the temple. The monks' main hall is under water, so they meditate or perform ritual chants in small groups elsewhere instead. Many potential novices—all Thai Buddhist men are ordained at some point in their lives - have postponed their initiation service, leaving a skeleton crew running the temple while they help out their families. Eight monks have left the temple to seek drier accommodations.
Worst of all, perhaps, is the impact on their day-to-day handling of the dead. Persistent floodwaters makes cremating the bodies - the local custom - almost impossible.
"When the water levels fall there will be a lot of work for everybody. For us, there will be a big backlog of cremations," said Phra Kriengkri Nakmi, 47 years old, a monk at the Glass Lotus Temple,
The swamped, mosquito-infested temple is a far cry from the downtown shopping malls and business districts that Thai authorities successfully protected from the deluge, and the glaring contrast is reinforcing a widening perception that not all Thais are suffering equally from the disaster.
While wealthy Thais and expatriates flocked to city hotels or to beach resorts such as Hua Hin to spend time looking for bottled drinking water, people who find themselves on the wrong side of the flood barriers are running out of patience from living for weeks in swelling, fetid floodwater.
Prime Minister Yingluck Shinawatra's populist government has to tread a fine line between protecting key economic assets and easing the burden on the hundreds of thousands of people still living in shelters or in increasingly polluted flood zones. Failure to do that risks reigniting the conflicts that in have led in recent years to a coup, an airport siege and violent street protests.
In Khlong Sam Wa district, where the Glass Lotus Temple is located, some residents have staged vocal demonstrations against the erection of sandbag barriers in their communities to trap floodwaters. The effort was aimed at helping save the Bang Chan and Lat Krabang industrial parks nearby but it had increased flood risks elsewhere. Under cover of darkness, some residents sabotaged the dikes, which are now protected under a military guard. In Pathum Thani, north of Bangkok, demonstrators blocked a highway Wednesday to protest what they say is a lack of help from the government. The rally triggered clashes with motorists.
The sight of flooded temples such as the Glass Lotus of Faith in Dharmma, to give its full name, are difficult for many Thais to take. Traditionally, the local temple is the heart of everyday village life Thailand. "Thai people make a commitment to the temple from birth to death, and every meaningful event in their lives takes place here," said Phra Kriengkri, who has been a monk for 25 years.
When someone dies, monks go to chant at their home for several nights before taking the body to the temple in preparation for cremation. "But with the floods like this, that's not happening," Phra Kriengkri said. "The families are postponing everything because they want the ceremonies done correctly in order to attain the maximum possible merit for their loved ones as they leave this life."
Other mourning ceremonies, such as walking the coffin around a funeral pyre also are disrupted by water entering the complex. The regular influx of bodies from the surrounding community to the temple means monks have to store them in caskets in their canteen—the highest, driest part of the temple compound. None of the corpses currently stored at the Glass Lotus Temple belong to any of the 530 people who have been killed in floods.
To complicate the matter, a growing number of people are seeking shelter at the Glass Lotus Temple, as the floodwaters swamp many areas. More than 30 families are crammed in the dormitories and in a nearby Buddhist school, as saffron-robed monks paddle about in rickety wooden canoes and, in one case, a paddle boat borrowed from a nearby park.
"We've been here for four days now," said one 62-year-old woman, Tu Poesut. She arrived at Glass Lotus Temple with four family members to escape neck-high floodwaters inundating her home. "At first we tried seeking shelter at a nearby school, but they said they were full so we came here to temple. I think it was a good decision. I'm familiar with the place, even though it is flooded."
Another evacuee, Sarawut Chaikamdi, 54, says he will stay at the temple, even though his badly cut right leg is turning yellow, suggesting infection. "There's not much to do but wait it out. There is nowhere else to go," he said.
Phra Kriengkri says he is determined to prevent the temple from closing. Each day, the monks work with a laborer to add layers to a protective wall around parts of the complex. They have constructed makeshift wooden walkways between buildings where pedestrians warily make their way past the stray dogs that also have flocked to the temple.
In recent weeks, Phra Kriengkri says he has overseen only one cremation, and that is mostly because the family of the deceased had traveled all the way from the U.S. "They needed to get back home—they couldn't change their tickets," he said.
—Wilawan Watcharasakwet contributed to this article.