Growing numbers join in prayers for the New Year
by Pakamard Jaichalard, The Nation, January 2, 2012
Bangkok, Thailand -- The New Year 2012 opened with an auspicious tone as over one million people attended the "across the year" prayer at Buddhist temples nationwide on New Year's Eve, an official said yesterday.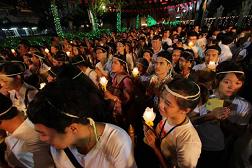 Office of National Buddhism director Nopparat Benjawattananant said the initial report found that over one million people joined in prayer at temples nationwide. Provinces surveyed randomly saw some 20 temples hosting prayers with each temple hosting some 10,000 attendees. As the trend towards prayers seemed to grow, he said the office would officially survey the number of attendees as a basis for office's work planning.
Bangkok's Wat Sa Ket abbot assistant, Phra Wichitdhammapon said the prayer campaign, hosted by the Sangha Supreme Council, the Office of National Buddhism, and the government, was successful with Wat Sa Ket alone seeing over 30,000 people attending the prayer.
Eighty per cent of the attendees were teenagers and working-age people, he said, saying it was a good sign that young people were interested in attending religious activities and urging parents to set a good example to their kids by making merit.
In related news, a spent bullet from people shooting skywards to celebrate the New Year had injured a woman joining the New Year Eve prayer at the plaza of Phra Pathom Chedi, Nakhon Pathom's famous landmark.
Vendor Khemika Limwashiranon, 42, who sustained a toe injury, filed a police complaint at 1am yesterday at Muang Nakhon Pathom police station and submitted a .38 calibre bullet as evidence.
The police station also received a complaint of stray bullets hitting a car's window while it was parked near the Phra Pathom Chedi, as well other complaints of bullets hitting three people's homes, but no injuries were reported.