Monks' city walk criticised, defended
The Bangkok Post, April 5, 2012
Criticised by a senator, the Wat Phra Dhammakaya temple's mass thudong pilgrimage through downtown Bangkok has been defended by the Office of National Buddhism
Bangkok, Thailand -- Wat Phra Dhammakaya has defended the temple's mass thudong pilgrimage through downtown Bangkok, insisting the walk by 1,500 novices and monks does not violate their code of ethics.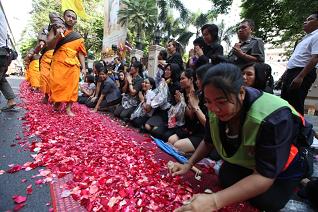 << Some of the 1,500 monks and novices at Wat Phra Dhammakayawho are taking part in a pilgrimage which started on Monday and is due to end tomorrow. Photos by Somchai Poomlard.
It has rejected criticism by a senator that the monks' walk is improper.
Appointed senator Truengjai Buranasompop, chairwoman of the Senate committee on religion, arts and culture, said the walk might violate the monks' code of ethics.
The senator believes the pilgrimage, which began on Monday and ends tomorrow, is improper as the monks walk through the city's already crowded streets and increase traffic congestion.
Phra Sanitwong, of Dhammakaya Foundation's public relations, however, said monks making a pilgrimage are not required to worry about congested streets.
They must abide by two of 13 ascetic practices set by the Lord Buddha – they must have only one meal a day, and stay at an arranged place.
He said the monks were indeed eating only once a day, and staying at schools and temples along the route.
The walk could be done anywhere, although the thudong is normally taken through forests.
Ms Truengjai added the pilgrimage might also have political implications, as it is goes through Ratchaprasong intersection, the site of the mass protest by the red shirts in 2010.
She called on the Office of National Buddhism (ONB) to rule if the walk disrespected Buddhism.
ONB deputy director Amnart Buasiri said yesterday the walk is not against Buddhist regulations and it is not improper to adapt the thudong to city life.
Conventionally, a thudong through forests allows people the chance to offer food to monks and listen to sermons.
But today many people live in cities and the pilgrimage brings them into closer contact with the monks.
"We should look at the real intention, to propagate Buddhism," he said.
The pilgrimage started at Wat Dhammakaya in Pathum Thani province and will end at Wat Paknam Phasi Charoen.
There, the monks will pay homage to the late Luang Phor Sod or Phra Mongkol Thepmuni, who founded the Dhammakaya Buddhist sect.
The monks' route will include Phahon Yothin Road, Don Muang, Saphan Mai, Bang Khen, the Victory Monument, Prathunam, Ratchaprasong, Banthat Thong, Yaowarat, Phra Pokklao bridge, Wong Wian Yai and Talad Phlu.