Famous Abbot Takes Up Monastery Dispute
By LAWI WENG, THE IRRAWADDY, July 17, 2012
Chiang Mai, Thailand -- Around a thousand Burmese migrants joined a Buddhist dhamma talk at Wat Sai Moon in the center of Chiang Mai, northern Thailand, on Monday to discuss a Thai abbot taking charge of the Burmese monastery.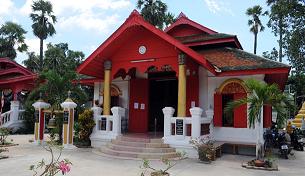 << Wat Sai Moon in the center of Chiang Mai, northern Thailand. (Photo: Steve Tickner / The Irrawaddy)
Dr. Ashin Nyanissara, better known as Sitagu Sayadaw, is one of Burma's most respected monks and told those gathered that, "All Burmese people need to preserve their legacy wherever they live.
"I do not mean to only let Burmese Buddhist monks run this monastery, but to continue maintaining our culture."
U Nyanissara added that he did not want Wat Sai Moon monastery to be lost like a Mon monastery he knew of in Bangkok, as well as another Burmese one in Lampang which shared a similar fate.
"A beautiful Mon monastery called Wat Ton in Bangkok is now gone and another one was Wat Sri Chum in Lampang, which had a lot of antiques," he said. "It is important that our people adopt a patriotic mind in order to protect our cultural legacy wherever we go."
Wat Sai Moon was constructed over 400 years ago during the reign of famous Burmese King Bayinnaung who invaded Siam in 1563. Wat Sai Moon was built by some of his army officers during that time, according to the abbot.
Many Burmese community leaders included some Buddhist monks said that they lacked the ability to deal with their Thai counterparts. "It gives us strength that he came to talk here as we are currently in a weak position," said one senior monk.
Burmese people in Chiang Mai have appealed to Thailand's Department of Religion not to hand over the monastery to a Thai abbot. U Nyanissara urged local Burmese community leaders to form a committee to talk to the Thai authorities regarding a solution to the dispute.
The monastery has had a succession of ten Burmese abbots according to its book of records. The latest, U Arthaba, died last year.
According to Thai law, a Thai monk can be appointed to succeed as abbot in the event of the death of his Burmese predecessor. Only one monastery in Thailand, located in the northern Thai city of Lampang, is officially recognized as Burmese.
Around 150 Burmese people living in Chiang Mai staged a peaceful protest on July 9 which called on the Thai authorities to let a Burmese abbot take care of the monastery.
Burmese Ambassador to Thailand Tin Win traveled to Chiang Mai from Bangkok on Tuesday to discuss the dispute.
"We came here to find out what we can do to solve this problem," he said. For hundreds of years there have been more than 100 Burmese monasteries in Thailand but now there are only a few remaining. So it is important to maintain this temple which remains."
U Nyanissara called his people "Ma Than and U Than"—Than means "million" in the Burmese language—during the talk, referring to the two or three million Burmese migrants who currently reside in Thailand. He urged people to question themselves and their lives rather than simply concentrating on the pursuit of money.