Suspected Muslim rebels attack monk-protection unit, killing one soldier
By SUTIN WANNABOVORN, Associated Press Writer , November 5, 2004
BANGKOK, Thailand -- Suspected Muslim insurgents attacked an army unit protecting Buddhist monks at a monastery early Friday, killing one of the soldiers as sectarian violence continued in southern Thailand, police said.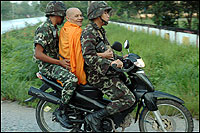 An unknown number of assailants struck at the Traithong monastery in Narathiwat province, retreating into the darkness after a brief firefight, said Police Lt. Pheerapong Karnrat. Killed was Pvt. Soonkipee Binmaze.
Military units of a dozen men each have been sent to guard all Buddhist temples in the three Muslim-dominated provinces of southern Thailand, where more than 400 people have died this year in what the government says is a Muslim insurgency.
A Buddhist monk was among nine people gunned down in a 24-hour period beginning Wednesday night as fears of escalating violence spread across the deep south.
It was the bloodiest day since Oct. 25 when 85 Muslim rioters died during a confrontation with security forces. The incident has sparked a spate of retaliatory attacks, including one beheading, in the provinces of Narathiwat, Pattani and Yala. The violence also spread this week to the generally peaceful province of Songhkla.
Some Muslim radicals, who are fighting for a separate Muslim state, also have vowed to strike at the Buddhist heartland, including the capital of Bangkok.
Police said they found 54 assault rifle cartridges after the gun battle in the province's Ruesoh district, 1,100 kilometres (680 miles)south of Bangkok.
Scenes of armed soldiers escorting yellow-robed Buddhist monks on their daily morning rounds to collect alms have become common throughout the southern region. Twenty-man army units have also been deployed to protect all government schools in the south, and escort students and teachers to classes.
Most of the southern region's 1,120 schools were expected to remain shut until Monday following a mid-week alert that the insurgents were planning to take teachers and students as hostages.