Thailand's Buddhist monks to get food lessons after study
by Andrew Buncombe, The Independent, August 2, 2012
Bangkok, Thailand -- The Buddhist monks of Thailand are not known to be an especially active bunch. Prayers, chanting and the collecting of alms take up much of their time.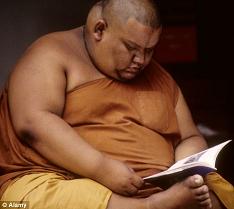 << The monastic lifestyle isn't as healthy as one might expect, researchers found.
But a new study suggests this lack of activity is not as healthy as one would assume. The investigation by Thai academics has discovered that 45 per cent of monks are obese while a full 40 per cent of them suffer from congenital diseases such as diabetes and high blood pressure. Many of them also suffer from various allergies.
The reason for this dismal situation, the scientists concurred, was an unhealthy diet and insufficient exercise. Much of the food donated to monks when they interact with the public is rich and oily and often contains too much sugar. In the evenings, when they are not supposed to eat, many of them will enjoy sweet soft drinks, usually also laden with sugar.
Some monks told the researchers they may sip as many as three such drinks a night.
Along with this is an unhealthy lifestyle. A report in The Nation newspaper said that apart from making their walks for alms, their only real exercise was sweeping the courtyards of their temples. Just over 20 per cent of the monks have annual health check-ups.
The survey's participants were 246 monks from the Dhammayuttika Nikaya and Mahayana movements in 11 of Thailand's provinces.
The newspaper reported that following the investigation by Dr Pinij Larpthananon and Prof Jongjit Angkatavanich from Bangkok's Chulalongkorn University, and Dr Phramaha Suthit Aphakaro, director of the Buddhist research institute at Mahachulalongkornrajavidyalaya University, a dual track plan had been put into place.
Not only will monks be educated about the sort of food they should be collecting, but a public education campaign will seek to advise people on healthy options they can give to the men in saffron robes.