Thailand's female monks (cautiously) lobby for legal recognition
By Amy Lieberman, CSM, September 8, 2011
A quiet campaign to grant female monks legal recognition began this summer. Advocates hope that the minimal fanfare will help the 'Bhikkhunis' evade conservative religious opposition.
BANGKOK, THAILAND -- Dhammananda Bhikkhuni grips a wobbly stack of feminine hygiene products and sorts them on a long table. Her followers watch before mimicking her quick movements.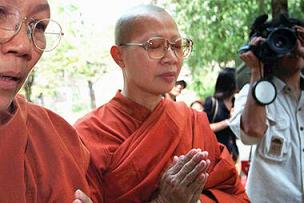 << Novice monk Dhammarakhita (C), dressed in a brick-colored robe after her ordination by Sri Lankan Bhikkuni, an order of female monks, gestures at Songdharmakalyani Temple in Nakhon Pathom, in this 2002 file photo. Formally known as Varangghana Vanavichayen, Dhammarakhita, a mother of two who divorced her husband to dedicate her life to Buddhism, became the first woman to be ordained as a monk in Thailand.
AFP/Newscom File
Bhikkhunis (Pee-KOO-nees), ordained female monks, in Thailand consider their gender to be an essential bridge to the women they help through charity work and spiritual guidance, since women are forbidden to be alone with male monks, known as Bhikkhu (Pee-KOO).
But Thai Bhikkhunis have their own limitations, not just because they number only 25 compared with the approximate 200,000 male monks here. They lack legal recognition – a denial that accompanies various withholdings of public benefits, and it highlights a persistent issue of discrimination for women across the country.
A revived campaign to grant Bhikkhunis legal recognition launched quietly at the end of July, with advocates hoping that minimal fanfare would help them evade the conservative religious opposition that has prevented the movement from strengthening for more than 80 years.
"This is a basic human rights issue," says prominent former senator and lawyer Paiboon Nititawan, an organizer of the Bhikkhunis' rights movement.
The new approach to take a cautious tact to achieve legal recognition for Bhikkhunis won't grant them entirely equal status with the male monks. But Bhikkhunis and their supporters are eager to accept whatever gains they can secure in the still largely conservative country.
The trick? "We have to stay low key," says Dhammananda, the eldest and longest-standing Bhikkhuni in Thailand. "We won't go out and march through the streets."
Dhammananda presides over a monastery that is home to nine Bhikkhunis in Nakhon Pathom province, one-hour northwest of Bangkok.
The residing Bhikkhunis, all ordained in Sri Lanka, which practices their observed chapter of Buddhism, Theravada, strictly follow the eight guiding principles of Buddhism.
Like their male counterparts, the women pray several times a day and discuss Buddhist teachings. But only Bhikkhuni can physically touch the other women who travel long distances for prayer.
"I love that it is easy to touch and talk with Dhammananda," said Khun Tip, a layperson who visits the monastery daily. "Women who have problems with their husbands or families cannot talk to male monks about these things."
Hurdles for women monks
Everyday barriers male monks don't have to consider stunt Bhikkhunis' work with women, the female monks say.
Male monks receive free public transportation and reserved bus seats, government identification cards, and public funds to support their monasteries. Bhikkhunis, meanwhile, have to rely on help from laypeople and private donations.
"If we go on the bus there is no place for us to sit," explains Dhammananda. "To many people, this here would not be considered a temple, because with a temple you must have a monk, and we are not considered that."
Bhikkhunis' rights campaign reveals the subtle, yet entrenched brand of gender discrimination in Thailand, which has achieved gender parity in classrooms and the workforce. However, women still earn only 94 percent of what male colleagues make and hold the minority of executive, high-level positions in business and politics.
Dhammananda acknowledges the "injustice" of Bhikkhunis' lack of recognition, but says if their campaign is to be successful it must appeal to Buddhist morals and honor the Buddha's word – not necessarily women's empowerment.
"We will bring these donations to women who are in the local prison," explained Ms. Dhammananda. "If we don't, then who?"
Thai constitution
Bhikkhuni ordination is permitted under the Thai constitution, but the Thai Sangha Council, a government-linked religious advisory group, does not accept Bhikkhunis' legal status or right to be ordained within the country. It cites a 1928 Sangha Act, which banned ordination of women following the last known attempt to recognize Bhikkhunis.
A new constitution in 1932 made that religious order void, says Mr. Nititawan.
But the Thai Sangha and some Bhikkhu – who remain largely unaware of the revitalized campaign – continue to cite the 1928 order, which recognizes only Bhikkhu, along with Vietnamese and Chinese male monks.
Nititawan says nearly 1,000 people have signed a petition to propose an amendment to the Sangha Act – one-tenth of what is needed to bring the measure before the Thai Parliament.
The change in law would place Bhikkhunis in the "other sangha," or ordained monks, category, along with Vietnamese and Chinese monks. Bhikkhuni would still have to travel abroad to receive ordination, a costly and time consuming process of several years.
"We believe that the government will support this because there is no reason not to," explained Sutada Mekrungruengkul, director of the Gender and Development Research Institute in Bangkok, who helped organize the campaign's launch among 30 people in Bangkok on July 29.
The movement also references the Buddha's support of Bhikkhunis when he allowed women to join the order of female Sangha, according to Dhammananda, because they were capable of enlightenment.
Dhammananda received her full ordination in 2003 and took over the temple her mother, the first fully ordained woman in Thailand, built in the 1970s.
A former university professor and divorced mother of three grown children, Dhammananda, then known as Chatsumarn Kabilsingh, says she found her spiritual calling mid life, when she felt something was missing from her otherwise full life. She realized it was a lack of fulfillment of her spirituality. She looked in the mirror one day and asked herself, "How much longer do I have to keep on doing this?" Competing for recognition at work seemed insignificant to adopting a simpler life of charity, reflection, and spirituality.
Other Bhikkhunis also chose ordination over promising careers.
Dhamma Vijaya planned to become an ambassador, and later considered social justice work, before she joined the monastery as a novice.
"It doesn't matter to me that we are not recognized," Ms. Dhamma said. "I would like to learn and that is my right."
She thinks that the ranks of Bhikkhunis will grow if they receive legal recognition.
"It will help us become stronger," Dhamma continued.
Approximately 1,200 Bhikkhunis practice across Southeast Asia and some parts of South Asia, among other places. Aside from Sri Lanka, Bhikkhunis can also receive ordination in China, Taiwan, Australia, and the United States.
Many national communities of Bhikkhunis say they have had their own struggles for equality, and they support one another through an international alliance. The alliance, of which Dhammanada is a member, works to support ordination of women worldwide.