Thai monks at frontline of battle to stop theft of ancient relics
Channel News Asia (AFP/IR), May 13, 2005
AYUTTHAYA, Thailand -- In an alarming clash between guardians of faith and the henchmen of wealthy art collectors, Thai monks at the Klang Klong Srabua temple found out the hard way about the fight to preserve ancient Buddhist relics.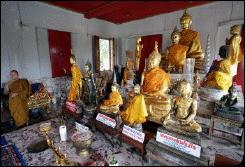 << 650-year-old statues of Buddha at the 'Wat Klang Klong Srabua' temple in Ayuttaya province
The thieves arrived last month just after midnight at the unprepossessing temple off the tourist path in this ancient capital, seeking to spirit away 650-year-old Buddha images that have helped define Thai art and culture.
What the intruders encountered was a pipe-swinging monk who managed to drive them off, but not before suffering a beating in one of the more shocking encounters in the battle to save Thailand's disappearing heritage.
"We are very worried these days," monk Phra Supit Arthititoh tells AFP as he recounts his fellow monk's ordeal.
"The abbot and I have to sleep here because we're afraid our important Buddhas will be stolen. If they can take one Buddha, they'll take any."
More and more, Thailand's men of the orange cloth are emerging as protectors of priceless relics, as police and fine arts officials face mounting challenges in keeping thieves at bay.
With its hundreds of temples, Ayutthaya -- Thailand's royal capital for more than 400 years before it was ransacked by Burmese invaders in 1767 -- has emerged as ground zero for the kingdom's crisis.
"Ayutthaya is a window to the past," Anek Sihamat, director of the region's Fine Arts Department, says in an interview.
"So many relics have been stolen, but there is still a lot of artwork here. It's not getting worse."
Yet Anek acknowledges it is hard to know if thieves are slacking because of improved protective measures or because there is less and less to steal.
He can't put a finger on the number of thefts, and temples often fail to report them.
Much of what has not been spirited away by thieves has been placed in the local branch of the National Museum.
"Some temples just don't have the resources to secure their relics and Buddha images," Anek says.
That leaves them exposed to predatory collectors and dealers who dispatch teams of thugs, often impoverished locals, to harass monks into selling valuables and, if they don't comply, to steal what they choose.
The trade is worth millions of dollars. Shortly before the ill-fated raid on Klang Klong Srabua temple someone offered 2.0 million baht (about 50,000 dollars) for a 657-year-old Buddha image. The abbot turned him down.
Anek's department is on a mission to register as many Ayutthaya antiques as possible, to build a more complete database when linking up with police to cut down on trafficking.
Some monks avoid the registration out of fear that doing so would alert criminals to their temple's valuables.
Ayutthaya was unwittingly thrust into the plundered treasures spotlight last month when news reports emerged that a San Francisco museum was displaying a 15th century golden crown stolen from an Ayutthaya temple in 1956.
The Thai government has set up a high-powered committee to establish if the crown was stolen and, if it is found that it was, will seek its return.
Anek notes that the crown's display at the Asian Art Museum, while hard for Thai historians to bear, ironically helped alert millions of Thais to the plight of relics in the kingdom.
"After the crown was displayed in San Francisco, there was a push to convince people to preserve artefacts as part of Thai heritage," he says. "It made people more aware."
Yet scant resources are available to tackle the problem, with Anek budgeted only 300,000 baht (7,500 dollars) for security for 2005.
Ayutthaya's police chief, Colonel Attapol Dedduang, says with human lives the primary focus, "we are merely a support team for the security of relics".
Some 300 men are under his control. Two are dispatched to protect the museum and Ayutthaya's royal palace. All other temples are on their own.
Yet some are still rich in treasures. Officials at Wat Naphrameru, a repository of several beautiful Buddhas, hired three security guards this year to protect artefacts put on public display for the first time in years.
"We used to not disclose where our 700-year-old Buddha was kept, for fear it might be stolen," a monk at the temple says.
Today the priceless metre-tall Chiang Saen Buddha sits in a glass case in a small reliquary at the back of the temple, where a steady stream of worshippers comes to pray.
"Two monks sleep in the same room as the Buddha at night," a monk there says.
Klang Klong Srabua's Phra Supit does not advocate violence as a means of protecting heritage, but he and others are confounded by the inability to stop thieves.
"The robberies are still going on. It's depressing," he says.
Theft of sacred objects is illegal under Thai law, but selling them is not, a loophole Anek feels should be closed.
Sending relics, particularly Buddha images, out of the country is forbidden, but in River City shopping mall, Bangkok's self-declared antiques centre, most dealers say exports are simple.
"We send it through the black market," boasts one dealer who has on display a half-metre-tall seated bronze Ayutthaya-period Buddha priced at 50,000 dollars.
The result is a thriving smuggling industry, emboldened by Thailand's refusal to adopt the most powerful international antiquities agreement in place.
The UNESCO convention on artefacts protection has more than 100 signatories. Thailand is not one of them.
"The antiques business is a tradition of the Thai people," says Anek.