Thai PM makes plea for religious tolerance
TNA, May 14, 2004
Bangkok, Thailand -- Prime Minister Thaksin Shinawatra today denied that the country's southern insurgency is a religious affair, saying, instead, that the militants were attempting to harness religion for their own purposes.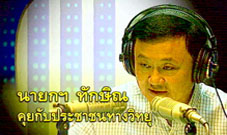 Addressing the public on his weekly radio show Saturday morning, the prime minister cited the example of Pakistan, whose prime minister recently visited Thailand.
Noting that Pakistan is an Islamic country which, nonetheless, respected and conserved its Buddhist heritage, he said that Pakistan pointed the way to religious tolerance.
"This indicates that people of all religions can live together in the mutual respect of each other's beliefs and faith", he said.
Thailand's southern insurgency, he said, is not a religious matter, but, instead, one in which militants were using and distorting the name of religion for their own personal ends.
Thailand's mainly Muslim southern border region, the largest pocket of Islam in a predominantly Buddhist country, has been involved in a bitter insurgency for over a year.
Saying that the militants had attempted to create religious discord, Mr. Thaksin noted that the insurgency was not about religion, but about individuals.
He urged the public to continue to exercise patience, as the government set up resolving the situation.
Turning to the new legislation for the southern border region, the prime minister said that some clauses from the old matial law would be included in the law that will replace it.
He noted that the new law would help government officials and security forces working in the country's three trouble-plagued provinces of Pattani, Yala and Narathiwat.
The planned law will be implemented as soon as it is ready, he said.
The new law would not impose excessive restrictions individual?s rights, he stressed.
The proposed new law would only transfer authority from the military to the prime minister, according to legal experts.
He dismissed the proposed changes as a ploy to deflect public criticism of the martial law.
On Friday the former prime minister and chief advisor to the opposition Democrat Party, Chuan Leekpai, said the violence in the deep South had not been caused by the martial law.
The abuse of power by government officials and security forces under the new government had provoked the situation, he said.