Yantra still exiled from monkhood
The Bangkok Post, 24 Apr 2014
Bangkok, Thailand -- Expelled monk Phra Yantra cannot re-enter the monkhood, National Office of Buddhism director-general Nopparat Benjawatananun said on Thursday, as the disgraced former cleric who was involved in a sex scandal 20 years ago continued to receive visitors on his return to Thailand.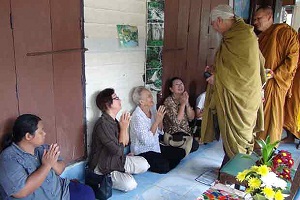 He was referring to Winai La-ongsuwan, 60, better known as the former "Phra Yantra" who was at the centre of a defamation and sex scandal 20 years ago and who fled abroad to escape punishment.
Last week he returned to his hometown in Nakhon Si Thammarat after the statute of limitations on the criminal charge that he defamed the late Supreme Patriarch was reached.
In 1994, the Sangha Supreme Council of Thailand found Phra Yantra Ammaro Bhikkhu guilty of defaming the late Supreme Patriarch, a criminal charge under the Sangha Act, and having sex with female followers, a violation of the monkhood, with his nocturnal visits being captured on video.
The council resolved to expel him. He denied everything and insisted he was still a monk, but changed the colour of his robes.
Mr Nopparat said it was correct the statute of limitations had already expired in the defamation case, but the National Office of Buddhism will check if Mr Winai remained guilty of disobeying the Sangha council's order ejecting him from the monkhood.
"According to Buddhist doctrine, once a monk is defrocked he cannot be ordained again for the rest of his life. If another monk then ordains him again when aware that he was expelled that monk is also guilty," he said.
Mr Winai, better known as the former Phra Yantra, welcomes visitors at his sister's home in Nakhon Si Thammarat on Thursday, April 25, 2014. (Post Today photo)
On Thursday, Mr Winai, who is staying at his sister's home in Nakhon Si Thammarat's Pak Phanang district, welcomed many visitors, including villagers, monks and nuns from different provinces, according to a Post Today report.
The report said many came to pay their respects to Mr Winai, whose monkhood earlier attracted a large following in the 1980s. They gave him food, flower garlands and money, while some asked him to step on their handkerchief as a blessing.
"Although Phra Yantra is no longer a monk, many people still respect and have faith in him because he still lives by the principles of Buddhism. We believe that the accusations against him in the past were false," one villager was cited as saying.
Now with long, grey hair and a beard, Mr Winai entered Thailand via Malaysia during the Songkran festival to pay respects to Phra Khru Suthammachan, the abbot of Wat Rattanaram in Pak Phanang. The monk ordained Mr Winai in 1974.
Mr Winai told his visitors that he planned to undergo dental treatment at a clinic in Phuket later this month, organise a merit-making ceremony and then return to the United States.