Charter must include Buddhist ideas of governance
by STEPHEN B YOUNG, The Bangkok Post, 28 Mar 2015
Bangkok, Thailand -- I have recently hosted five round tables - one each in Germany, London, Paris, The Netherlands and Madrid - where Thai Buddhist ideas on governance were presented to appreciative audiences.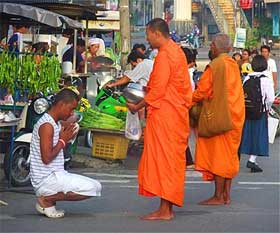 This fact is important as Thailand edges closer to drafting a new constitution.
My fear for Thailand is that many of the key features in the proposed constitution are of the close the barn door after the horses have bolted variety.
Designing a new constitution merely to stop self-serving and corrupt wrongs and excesses of arbitrary power is to look backward and not forward. A good constitution should be designed for the future as architecture, not as interior design for a particular temporary occupant.
Tastes in design change rapidly and often. Thailand 's many constitutions have suffered from taking this short-term approach. Architecture should be for the ages drawing on timeless principles of harmony and form to inspire and reassure over years to come.
Therefore, the most important question for Thailand is: what profound principles shall inform the new constitution?
Will they be borrowed from the Western tool kit of governing arrangements helter-skelter — one from here and one from there?
Or, will they respond to deep and lasting Thai perceptions of what is right and justice?
Is Thailand to be in perpetual tutelage to the West? Does the West have a permanent monopoly on truth and justice? Are Western experts and their Thai students to be like Anna Leonowens scolding the children of King Rama IV for not being sufficiently Victorian?
Given his dismissive hauteur during his recent visit to Bangkok, it would seem that US assistant secretary of State Dennis Russel sees the Obama Administration exactly in this role of tutor to Thai leaders on what good governance requires. Of course, those who assume the right to instruct always have the option of moving the goalposts as their predilections change from one idea to another in the game of ever shifting politically correct opinion.
Therefore the warm reaction given to Thai Buddhist values in our European round tables holds great significance for Thailand. The subject for discussion at the round tables was the current initiative seeking to have the General Assembly of the United Nations adopt global goals for sustainable development when it meets this coming September.
It turns out that Thailand has an excellent, home-grown philosophy of sustainability that can be applied globally. I am referring to the principles drawn from Buddhism by His Majesty the King and shaped into the sufficiency economy philosophy.
Of particular note at our round table discussions were His Majesty 's suggested principles of moderation, reasonableness and resilience. The Thai perspective was brought to our discussions by Poomjai Nacaskul, a senior quantitative risk manager at Siam Commercial Bank. Of great interest to me was that, first, in London, even before Mr Poomjai spoke, Jeff Seabright of Unilever, representing his CEO Paul Polman, spoke of the need for companies to be thoughtful and balanced in their decision-making and not chase profit to the exclusion of all else. This was an external confirmation of the wisdom of sufficiency economy approaches.
Then in our Paris meeting, Jacques de Larosiere, former director of the International Monetary Fund, and Jean-Claude Trichet, former president of the European Central Bank, spoke earnestly about the need to build "moderation" into international financial structures. Their point was that sustainable finance is needed if the world is to have sustainable development.
In the Netherlands, Prof Arnaud Boot demanded resilience in society as a buffer against the short-sightedness, insecurity of financial asset values, and extreme price volatility spawned by financial institutions in our time. And in Madrid, Mr Poomjai 's explanation of Thai Buddhist mindfulness as a human ability to make wise decisions about business and the economy was greeted with respect and appreciation. Participants linked the Thai understanding harmoniously to Catholic social teachings. I came away from these round tables with a conviction that Thai Buddhism has much to contribute to improve the global conversation on sustainable development, which is our future in every culture, for every business, and for every government.
In planning their own constitutional future, Thais should take a stand on the best of their traditions and values. Sufficiency economy principles and the related principles of good public trusteeship contained in the Dasa Rajadhamma principles are valuable intellectual resources for drafting a good constitution for Thailand.
-----
Stephen B Young is global executive director of Caux Round Table.