Tiger 'unintentionally' mauled abbot at controversial Thai temple: Doctor
AFP, May 25, 2015
BANGKOK, Thailand -- A tiger that mauled the abbot of a Thai temple under fire over the welfare of dozens of big cats in its care "didn't intend" to attack him, the monk's doctor said on Monday.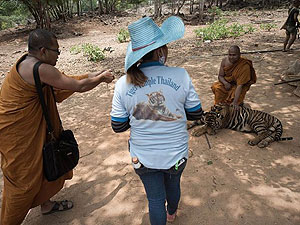 Wat Pha Luang Ta Bua in western Kanchanaburi province -- commonly known as the "Tiger Temple" -- is home to nearly 150 tigers and has long drawn tourists who flock there to be photographed next to the monks' feline pets.
But the monastery has also had a controversial reputation among animal rights groups and Thai wildlife officials who say it is breaking the law in keeping the cats.
On Saturday abbot Luang Ta Jan, 64, was admitted into intensive care at Thanakarn Hospital with injuries including a bleeding facial wound as well a broken arm and tooth, his doctor and hospital director Sahathep Sawarngnet told AFP.
But Sahathep dismissed reports the tiger pounced on its owner and insisted the attack was accidental, triggered when Luang Ta Jan, who was pulling the tiger along by a lead, slipped and fell.
"It didn't intend to attack him at all, only that its nail quickly scratched him when he fell, like a cat," Sahathep said, adding that the abbot had relayed the story to him.
"If it was a real attack, his face would have been torn apart -- but there was only a scratching line from his forehead to his lips," said the doctor, adding that the abbot broke his tooth and arm when he fell onto the ground.
According to Sahathep the tiger weighed 300 kilograms (660 lbs) and had been at the temple for seven years.
The abbot was now recovering and would likely be discharged later this week, the doctor told AFP, adding that he was only ever admitted to intensive care as a precaution due to his previous heart problems, appearing to downplay the severity of his injuries.
Thailand's Department of National Parks, Wildlife and Plant Conservation (DNP) says the temple has been keeping the tigers without proper paperwork and has vowed to seize them, sparking standoffs in recent weeks between officials and angry monks blocking their way.
On Monday DNP official Somsak Poopet told AFP the department was still considering issuing new rules to the temple including seizing the tigers and banning the monks from putting them on show.
In April the DNP banned the temple from charging tourists admission fees or money to take photos with the tigers.