Buddhist Monk in Thailand Relies on Karma for Lending Success
By Wilawan Watcharasakwet, The WSJ, May 12, 2015
Microlender sets interest according to borrower's good deeds, avoids defaults with neighborly peer pressure
BAAN NA KLUEA, Thailand -- Buddhist monks aren't really known for dipping into the material world of finance. Phra Subin Paneeto, though, says he felt he didn't have much choice when he saw his neighbors near Thailand's border with Cambodia were struggling to make ends meet.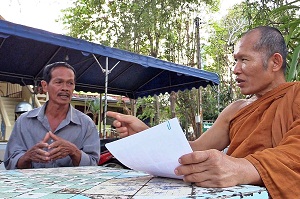 << Phra Subin Paneeto, right, offers financial advice to borrower Dusit Satharalai. Mr. Dusit turned to Phra Subin's network after struggling to pay off a high-interest loan from another lender. Photo: Warangkana Chomchuen/The Wall Street Journal
So, in the early 1990s, he started a microlending operation with a few thousand baht, lending small amounts to villagers to help pay for home repairs, buy new farm machinery and pay off other, larger debts.
Today, Phra Subin's micro-banking network has amassed about $60 million in deposits and loans.
Financing the Future
WSJ's "Financing the Future" series explores the issues facing Asia's poor as they seek greater access to the financial system. Visit our digital news hub at financingthefuture.wsj.com.
The idea is that its 66,000 members will each contribute sums ranging from 10 baht to 500 baht, or about 30 cents to $15, a month. Each member who wishes to borrow is bundled together with three to five guarantors, and is allowed to tap more than they put in, at an interest rate of 1% to 2% a month—or less if other villagers agree. Some borrowers pay no interest.
The guarantors, who are all members of the group, are often friends, relatives or neighbors of the borrowers. Members have an incentive to be guarantors so that others will be guarantors for them when they wish to borrow money.
Half of the venture's earnings are paid to the members at the end of each year. The rest go to a village welfare fund.
Thais have plenty of other banking options to choose from. According to the Bank of Thailand, the country's central bank, about 90% of Thai households have access to financial services. In rural areas, government-sponsored village credit programs have lent more than $5 billion since the idea caught on in the early 2000s, making Thailand one of the biggest players in the global microfinance scene.
Nonetheless, demand for Phra Subin's Buddhist-flavored lending program, called Sajja Sasom Sab, continues to gain traction.
Other temples and monasteries around predominantly Buddhist Thailand have followed his example. More than 40 of the country's 76 provinces have witnessed monks get involved in similar microfinance projects.
The reason for Phra Subin's continued success?
Some borrowers, depending on how well they are perceived to follow Buddhist precepts such as telling the truth or avoiding intoxicating substances, aren't charged interest, Phra Subin says.
"Other financial institutions, they look at your financial records, assets and collateral," he explained in a Buddhist temple in the hub of his saving network here in Trat province. "But the community will evaluate your good deeds."
No-interest loans cut into the lender's profit margin, but Phra Subin says that is offset by his system's emphasis on Buddhist principles—he calls it a karmic peer-pressure system—which makes defaults virtually nonexistent.
"If you are not honest or sincere to other group members, nobody will help you when you want to borrow the money," Phra Subin continued. "This community will force you to practice Dharma, work hard, be honest and take responsibility. Otherwise no one will want you."
Dharma refers to the teachings of Buddha.
Other religious groups around the world have tried to tackle poverty using microfinance. The Roman Catholic charity Caritas Manila has helped form microbanks in the Philippines that have expanded access to credit there; its cooperative now has 20,000 members and has a repayment rate of 96%. The Catholic church has embarked on similar projects in Indonesia, where it has set up credit unions in remote areas of the archipelago, such as Kalimantan province on the island of Borneo.
In India, Hindu charities and temples have helped rural communities secure loans from banks. Indian banking regulations prohibit banks and microfinance institutions from taking an explicitly religious approach in their lending decisions. But some Hindu groups do help, says Shantharam Pai, financial director with Shri Kshetra Dharmasthala Rural Development Project, a charitable trust that is associated with a Hindu temple in the southern state of Karnataka. His organization acts on behalf of commercial banks, as agents, to help people, mostly women, navigate the banking system and obtain loans.
By applying Buddhist precepts to its lending policies, Phra Subin's microfinance operation in Thailand goes considerably further than its counterparts. Its supporters say that applying the concept of karma, that an individual's actions inevitably affect them later in life, appears to reinforce the peer-pressure model that is at the root of most microfinance programs, helping to keep the operation's borrowers from defaulting.
The operation's managers say there are no current defaults and the lender is in contact with all borrowers who are late on their payments. In Thailand's commercial sector, loan defaults were about 2.16% of outstanding loans, or 278.2 billion baht in 2014.
Moreover, the more a borrower repays, the lower the interest rate will be the next month, unlike at commercial banks, which calculate interest rates at set levels.
Traditional bankers generally applaud such a system. "These forms of lending and savings promotion are typically observed in low-income communities in rural areas," says Piyasak Ukritnukun, managing director of CFG Services Co., Ltd., a subsidiary of Bank of Ayudhya.
He said larger commercial banks tend to shy away from similar lending structures "due to the relatively small loan sizes and lower interest rates coupled with high operating costs."
There are other potential drawbacks to the less-formal village microfinance system: Much of the Sajja Sasom Sab network's success is bound up in the efforts of its charismatic founder, Phra Subin. Economists such as Luxmon Attapich at the Asian Development Bank say it is sometimes a problem for lenders to rely so heavily on the leadership of one person. "What if they are not around anymore?" she asked.
She and other economists say that some informal microfinance programs, while initially successful, ultimately falter because their leaders die or move away.
Still, Phra Subin's network has been a boon to the many Thais who still don't use the formal banking network. According to an Asian Development Bank report, more than 1.7 million Thais borrow from informal lenders, including some 335,000 who borrow from loan sharks or other unlicensed lenders.
Dusit Satharalai, for instance, borrowed some 300,000 baht with an 8% annual interest rate from an agricultural cooperative in 1992 to start a durian plantation.
The venture was slow to bear fruit, however. Twenty years later, Mr. Dusit found himself struggling to make payments and prevent his land being seized. Adding to his problems, the co-op increased his interest rate to 13% because of late payments, he said.
He borrowed money from his sister, but when she had to pay for her children's school fees, Mr. Dusit was running out of options.
At his brother's suggestion, Mr. Dusit turned to the Sajja Sasom Sab group in 2013, securing a 400,000 baht loan from the fund with an interest rate of 0.5% per month. After two years, he has already paid half of it back and plans to clear his debt to zero by the end of this year, including the co-op loan. Business has picked up at Mr. Dusit's plantation, which has helped with his payments, but the lower-interest loan from the Sajja Sasom Sab has also eased his struggles.
Mr. Dusit's niece, Panisa Satharalai, whose father borrowed 1 million baht from the fund to rebuild the family home, says she has doubled her income since then by offering home-stay accommodation and starting a catering business.
"This is a happy debt," said Ms. Panisa. "This loan gave me a job and makes me want to get up early every morning to work hard, and it shows how united our community is. I won't need to worry that I could not pay it back and risk losing my house and land."
---------
Suryatapa Bhattacharya in New Delhi contributed to this article.