Thai crown prince and sister collect remains of supreme patriarch
by Supinda na Mahachai, The Nation / ANN, Dec 18, 2015
Bangkok, Thailand -- THE cremated remains of His Holiness Somdet Phra Nyanasamvara, the late Supreme Patriarch of Thailand, were enshrined at Wat Bovoranives Vihara yesterday in a ceremony on December 17.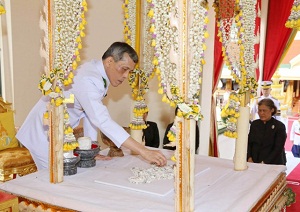 << HRH Crown Prince Maha Vajiralongkorn performs a ceremony yesterday to collect the ashes and remains of the Supreme Patriarch at Wat Thepsirintharawas, where the royally sponsored cremation took place on Wednesday.
HRH Crown Prince Maha Vajiralongkorn and HRH Princess Maha Chakri Sirindhorn, along with the Prince's daughters HRH Princess Sirivannavari Nariratana and HRH Princess Bajra Kitiyabha, collected the remains from Wat Thepsirintharawas where the royally sponsored cremation had taken place on Wednesday.
The remains were then moved to Wat Bovoranives Vihara's Tamnak Phetch and people were allowed to pay their respects from 9am yesterday. Tamnak Petch will also be open to the public from 8am to 8pm today and tomorrow morning.
At 4.30pm tomorrow, HRH Princess Somsavali will - on behalf of His Majesty - perform a merit-making ceremony for His Holiness's remains before escorting them to the temple's Tamnak Doem. Built during the reign of King Rama IV, Tamnak Doem houses the relics of all former abbots of Wat Bovoranives Vihara. His Holiness was the temple's sixth abbot.
Phra Sakkayawongwisut, the temple's assistant abbot, said yesterday that HRH Princess Somsavali would also enshrine parts of His Holiness's remains in Phra Vihara Keng on Sunday.
"Once the remains are enshrined, people can come and pay their respects every day," he said.
Phra Sakkayawongwisut also said that with His Majesty's permission, some remains of His Holiness would also be enshrined at Wat Devasangharam in Kanchanaburi province and Wat Nyanasamvararam in Chon Buri province. His Holiness had been ordained as a novice at Wat Devasangharam and Wat Nyanasamvararam had been built at his initiative.
Phra Sakkayawongwisut said his temple would publish more copies of the commemorative book as all the 300,000 copies printed so far had been taken. The book highlights His Holiness's work and photographs.
His Holiness commanded respect from Buddhists not just in Thailand but also beyond, as proved by the fact that a number of foreigners joined the funeral procession on Wednesday.
"As many as 19 Sangha leaders from 13 countries also joined the ceremony," Phra Sakkayawongwisut said.