Former Wat Sa Ket abbot found hanged
The Bangkok Post, 25 Jan 2016
Bangkok, Thailand -- The former abbot of a well-known royal monastery in Bangkok was found dead at the temple on Monday morning.
Police found the body of Phra Phromsuthi (Chao Khun Sanoh), 58, on a bed at Wat Sa Ket in Pomprap Sattruphai district at 8am. His brother and disciples said they had found him hanging in his quarters and brought the body down.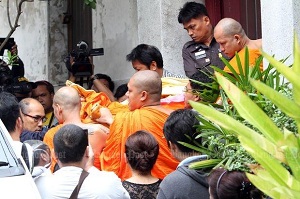 << Monks and officials help move the body of Phra Phromsuthi from Wat Sa Ket to be taken to the Police General Hospital for an autopsy on Monday. The former abbot of Wat Sa Ket was found hanged in his quarters early on Monday. (Photo by Apichart Jinakul)
The senior monk had bruises on his neck and police estimated he might have been dead for six hours. The body was sent for an autopsy at the Police General Hospital's Institute of Forensic Medicine.
Thai media reported the senior monk suffered depression after the Sangha Supreme Council had removed him as its board member and suspended him from abbot duties last January. Four months later, he resigned as abbot of Wat Sa Ket.
Phra Phromsuthi was accused of misapppropriating the 67-million-baht state budget allocated for the funeral of Somdej Phra Buddhacharn, his predecessor and caretaker Supreme Patriarch, who died in 2013.
Also on Monday, the Department of Special Investigation (DSI) said it was no longer handling cases involving Phra Phromsuthi.
Earlier, the People Network Organization for Security of Nation, Religion and King asked the DSI to probe several issues involving the monk including his alleged unusual wealth.
DSI chief Pol Col Paisit Wongmuang said his office had looked into the facts involving the allegations and forwarded the findings to the Sangha Supreme Council and the National Office of Buddhism to take further action.
As for the funeral budget misappropriation case, he said the Auditor General's Office was investigating it.
Auditor general Pisit Leelavichorpas said on Monday afternoon the budget misuse case was closed after it was found the misappropriated sums were advance payments.
"Phra Phromsuthi returned the money to the National Office of Buddhism after he resigned as the abbot so no damage was done. Phra Phromsuthi was cleared of all charges," he said.
Phra Phromsuthi was born Sanoh Fungmook in Bang Pa-in, Ayutthaya province. He was ordained at the age of 12. He received a bachelor's degree from Mahachulalongkornrajavidyalaya University, one of the two public Buddhist universities in Thailand, before completing a master's degree at India's University of Pune.
Wat Sa Ket is famous for its Golden Mountain or Phu Khao Thong chedi, one of Bangkok's landmarks and tourist attractions.