Thailand: Monks' top council protects Dhammachayo
The Bangkok Post, 10 Feb 2016
Bangkok, Thailand -- The Sangha Supreme Council says controversial abbot Dhamachayo of Wat Phra Dhammakaya will not be defrocked because complaints against him were withdrawn before a hearing could begin.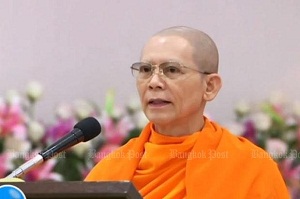 << Phra Dhammachayo, abbot of Wat Phra Dhammakaya, is immune from past complaints of embezzlement, according to a resolution of the Sangha Supreme Council on Wednesday. (Photo by Seksan Rojjanametakun)
The council met on Wednesday in response to a call from the Department of Special Investigation (DSI) for it to consider a letter in 1999 from the late Supreme Patriarch to the council, recommending the abbot be defrocked for violating Buddhist monks code of conduct by putting assets worth more than 900 million baht, including 1,500 of land belonging to the temple, in his name.
Chayaphon Pongsida, deputy director-general of the National Office of Buddhism which is the secretariat of the council, said the council resolved that the case of Phra Dhammachayo had been finalised at the level of Sangha and secular courts of first instance because complainants had withdrawn their cases.
A complaint was filed with a Sangha judge panel consisting of the ecclesiastical chief of Pathumthani province where Wat Phra Dhammakaya stands and senior monks of the relevant region. The panel rejected the complaint as incomplete.
The complainants did not appeal against the rejection and later withdrew their complaint, and so the case did not go into a hearing, including by the Sangha Supreme Council, according to Mr Chayaphon.
The other embezzlement complaint filed with the Criminal Court was already withdrawn, he said.
Pol Maj Woranan Srilam, deputy spokesman of the DSI, said on Wednesday the department wanted to know if the National Office of Buddhism (NOB) and the Sangha Supreme Council (SSC) had complied with the Sangha Act, the rules of the council and Buddhist monk rules when it came to the case of Phra Dhammachayo.
"The DSI also told the NOB and the SSC that they are duty-bound to comply with the three laws. I believe that the resolution of the SSC today should elaborate on how it has acted on the issue. As the issue is drawing extra attention from society, there should be a clear answer about whether any action has been taken," Pol Maj Woranan said.