Dhammakaya saga threatens to deepen feud in Thai Buddhism
By Panu Wongcha-um, Channel NewsAsia, 7 Mar 2016
The abbot and founder of the Dhammakaya sect, Dhammachayo, is currently under investigation for allegedly embezzling the temple's donation money.
BANGKOK, Thailand -- Dhammakaya, the world's fastest growing group within Buddhism, has more than 4,000 monks and claims to have millions of followers in Thailand and abroad. In recent months however, the sect has come under increasing scrutiny over a raft of issues.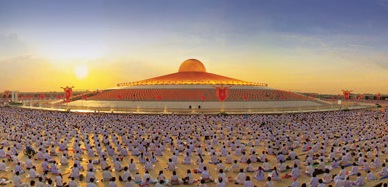 << Dhammakaya: The sect with the "UFO" temple
The abbot and founder of the Dhammakaya sect, Dhammachayo, is currently under investigation for allegedly embezzling the temple's donation funds. The Dhammakaya temple, which is just outside Bangkok, is well known for its unconventional buildings and unorthodox rituals.
"Dhammachayo has been accused of sexual misconduct and financial misconduct," said Sulak Sivaraksa, a social critic. "The Dhammakaya is very rich and very powerful."
Thailand's Department of Special Investigation had in 2015 summoned the abbot and other monks for questioning, with the temple accused of receiving more than 1 billion baht (US$28.2 million) in embezzlements.
However, that is not all that is plaguing the temple. A battle for the post of Supreme Patriarch, the top position in Thai Buddhism, has divided the country.
The Thai government had last year stalled the appointment of Somdet Chuang, the 90-year old abbot nominated for the position, pending an investigation into an allegation of tax evasion. Somdet Chuang is said to have close ties to the Dhammakaya.
Many Dhammakaya monks and followers took part in a protest in February, demanding that the government stop its interference into the appointment of Thailand's next Supreme Patriarch.
Government needs to get tough on corruption: Activists
However, critics say that Thailand's government must not endorse Somdet Chuang's nomination and should honour a pledge to stamp out the corrupt practices.
"We need to reform Thai Buddhism because it has become rotten and lost its way," said Luang Pu Buddha Issara, an activist monk, who is leading the fight against Somdet Chuang.
"For the Thai Buddhist community, there has never been a Supreme Patriarch nominee with such a questionable background," he said. "If we let Somdet Chuang become the Supreme Patriarch, then we would allow the Dhammakaya sect to dominate Thai Buddhism."
The Dhammakaya temple insists that they have no intention of distorting Buddhist teaching but say they are being politicised by their critics. They also insist that criticisms of the sect are unfair, arguing that their austere living conditions reflect the temple's emphasis on Buddhist discipline, cleanliness, and meditation.
"The Dhammakaya temple for the last 45 years has been teaching meditation and morals and ethics, and how to make people become a better person for the society," said Phra Pasura Pantamano, the Dhammakaya's Foreign Correspondent.
"We are not trying to be involved in politics or anything that is not related to Buddhist activities at all."