Top Thai Buddhist monk investigated over vintage Mercedes-Benz
by Oliver Holmes, The Guardian, 29 March 2016
Supporters of Somdet Chuang, frontrunner for the post of supreme patriarch, say tax evasion claims are politically driven
Bangkok, Thailand -- A 90-year-old monk is under investigation for tax evasion in Thailand and will be summoned by police after he refused to answer their questions about his classic Mercedes-Benz.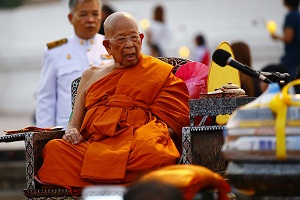 << Somdet Phra Maha Ratchamangalacharn (somdet Chuang). Photos: The Nation/asia News Network, Tan Hui Yee
The 1953-model car - in cream and worth more than $250,000 - is at the centre of a politically divisive battle over the future leadership of Thai Buddhism.
Somdet Phra Maha Ratchamangalacharn, better known as Somdet Chuang, is the frontrunner for the post of supreme patriarch, a position that leads 300,000 monks in the most populous Buddhist-majority country.
Paiboon Kumchaya, the justice minister, has said that Somdet could be arrested after he refused to answer questions from police who visited the temple.
"If he doesn't respond to the summons, we will seek an arrest warrant," he said.
Chuang has said the car was a gift from a follower and it is kept in a museum.
His supporters say the allegations are politically charged. Chuang has ties to the Dhammakaya Temple, a power base for Thaksin Shinawatra, the ousted former prime minister and the ruling junta's top foe.
The leadership battle, which mirrors Thailand's political divide between pro-military "yellow shirts" and Thaksin's "red shirts", has led to street protests.
The prime minister, Prayuth Chan-ocha, a general who took power in the 2014 coup, has said that unless the dispute is settled he will not nominate any candidate for supreme patriarch.
Only once the prime minister nominates a candidate to the king can the post be approved.
Chuang's supporters took to the streets last month to protest against what they believe is state interference in religious affairs.
The army responded by trying to disperse the demonstrators, shaven-head monks in saffron robes, but it led to scuffles that shocked many Thais.
"We will not move until the state stops interfering in religious affairs," said Methi Thammacharn, secretary-general of the Buddhism Protection Centre.
Images on television showed about 1,000 monks clashing with troops in uniform. One video showed a monk putting a soldier in a headlock.
"Don't touch monks!" shouted onlookers.
This month, police detained a monk close to Chuang for "attitude adjustment", a detention programme which coup leaders have used to haul in hundreds of dissenters, politicians and journalists for interrogation.
The unprecedented move increased tensions over the Buddhist leadership contest, already fraught as ailing King Bhumibol Adulyadej, 88, has traditionally been involved in Buddhist ceremonies but his ill health has created a power vacuum.
There is countrywide anxiety over the royal succession with both the yellow and red shirts seeking to solidify their position in the country's future.
Political leaders will want a supreme patriarch, an influential figure, to be sympathetic to their cause.
The country's last supreme patriarch, Somdet Phra Nyanasamvara, died in 2013 aged 100.