Thai temple reportedly gives award to radical anti-Muslim Burmese monk
Prachatai Engliah, March 16, 2016
Bangkok, Thailand -- A controversial Thai temple has reportedly given an award to a radical anti-Muslim Burmese monk on his visit to Thailand while a group of Thai monks openly showed him support.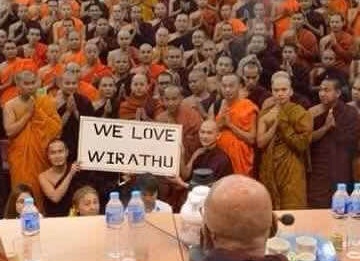 << Thai monks showing support for Wirathu (Photo from Somrit Luechai's Facebook profile)
Somrit Luechai, a Thai Buddhist scholar, on Wednesday, 16 March 2016, posted several pictures on his Facebook profile, showing Ashin Wirathu, the well-known head of a radical anti-Muslim and nationalistic Buddhist group in Myanmar, on a visit to Mahachulalongkornrajavidyalaya University (MCU), a public Buddhist university in Thailand.
One of the pictures shows a group of Thai Buddhist monks holding up a banner reading "We Love Wirathu".
Somrit said that he was surprised and frightened when he saw such pictures, saying that the Burmese monk was the one who incited hatred between Buddhists and Muslims.
"The worse is that it seems as if this is normal," wrote Somrit.
On the same day, Lalita Harnwong, a Thai historian lecturing at Mahasarakham University, posted the same set of pictures on her Facebook profile.
She wrote that the radical Burmese monk travelled to Thailand to accept an award from the controversial Dhammakaya Temple, whose abbot is accused of fraud. The abbot led his disciples to MCU for a site visit.
Alarmed by the pictures, Lalita wrote "the behaviour of Dhammakaya and CMU in opening their arms to welcome Wirathu shows the xenophobic logic and thoughts of certain Buddhist groups in Thailand."
She added in her post that the monk is trying expand his Buddhist network in Thailand.
Last year, Venerable Aphichat Promjan, chief lecturer monk at Benjamabophit Temple, a Bangkok temple under royal patronage, made headlines when he posted on Facebook the suggestion that the state authorities should take radical measures to quell the violence in the Deep South.
The Thai monk suggested then that the Thai state should arm the Buddhist population in the Deep South as a measure to protect "defenceless" Buddhist monks and people in the area from being targeted by what he called "Malayu bandits."
"If a [Buddhist] monk in the three southern border provinces dies from an explosion or being shot at the hands of the "Malayu bandits", a mosque should be burned, starting from the northern part of Thailand southwards." Aphichat suggested.
Although many people posted comments and Facebook stickers in support of the monk, many also posted comments against it with the hashtag '#resist Wirathu model', comparing Aphichat to Ashin Wirathu.