Thailand issues arrest warrant for Buddhist abbot in graft investigation
Reuters, May 18, 2016
Bangkok, Thailand -- Thai authorities issued an arrest warrant for an influential Buddhist abbot on charges of money-laundering and receiving illegal donations, justice ministry officials said on Tuesday.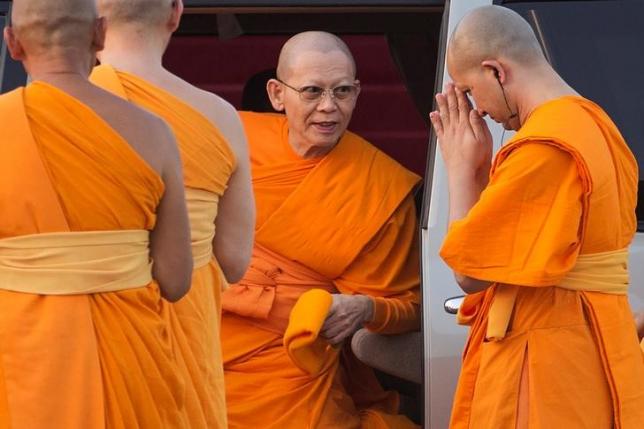 << Abbot Phra Dhammachayo (C) at the Wat Phra Dhammakaya temple in Pathum Thani province, north of Bangkok on Makha Bucha Day, March 4, 2015. REUTERS/Damir Sagolj
Religious institutions in predominantly Buddhist Thailand have come under repeated scrutiny in a series of sex and money scandals, prompting calls from many for reform. The country's divisive political backdrop has also caused fissures within Thai Buddhism.
Police and his lawyer said the warrant for Phra Dhammachayo was issued after he failed to report several times for questioning. Lawyers and doctors have said he was too ill to attend.
Phra Dhammachayo is abbot of Wat Phra Dammakaya, a monastery famed for its giant UFO-shaped golden stupa some 50 km (30 miles) north of Bangkok.
"We will go back to the temple to notify Phra Dhammachayo," lawyer Sumpun Sermcheep said. "We reaffirm that he is really ill."
Police would ask Phra Dhammachayo to turn himself in within a week, said Paisith Wongmuang, chief of the Department of Special Investigations, Thailand's equivalent of the FBI.
Run by the Dhammakaya sect, the temple has for years been dogged by allegations of corruption, which it has steadfastly denied.
The leading candidate for the role of the supreme patriarch, who is being selected following the death of the incumbent, has ties to the Dhammakaya sect.
The selection process has become a proxy for the colour-coded politics that Thailand's junta has quashed since taking power in 2014, in a bid to end a decade of political violence.