Thailand refuses to submit nomination of Somdet Chuang as Supreme Patriarch
by Anapat Deechuay and Sakda Samerpop, The Nation, July 12, 2016
Bangkok, Thailand -- PRIME MINISTER General Prayut Chan-o-cha has pledged not to submit the nomination of Somdet Chuang as the new supreme patriarch for royal endorsement for fear it would spark turmoil.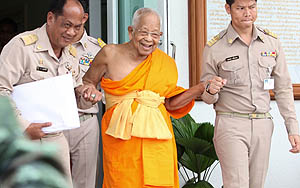 "No, I can't submit something that is problematic," Prayut said yesterday in defiance of the Council of State's opinion that the Sangha Supreme Council (SSC) had complied with laws in nominating Somdet Chuang as Thailand's highest-ranking monk.
The top ecclesiastical post has been vacant since Somdet Phra Nyanasamvara Sangharaja passed away in 2013.
The SSC endorsed Somdet Chuang, officially known as Somdet Phra Maha Ratcha Mangkhlachan, for the post of supreme patriarch in early 2016. However, the nomination has not gone further amid intense opposition against the elderly monk.
Since his nomination was reported, many figures have come forward to question his suitability for the role.
Former senator Paiboon Nititawan, who previously chaired a reform committee on Buddhist affairs, has accused Somdet Chuang of violating laws as well as monastic rules. He petitioned the Office of the Ombudsman, questioning the SSC's right to nominate Somdet Chuang.
In response to his petition, the Office of the Ombudsman ruled that the nominating right lay with the prime minister.
Somdet Chuang is facing a criminal complaint related to an illegal Mercedes-Benz that was registered under his name, with the scandal breaking earlier this year.
The Department of Special Investigation concluded that the car was illegal due to many illegal procedures involving it, including the use of falsified documents to complete its registration.
Somdet Chuang has never testified to the DSI in regard to the case, with his lawyer explaining that the Mercedes-Benz was given to the monk and he knew nothing about the process used to get the vehicle to him.
DSI chief Paisit Wongmuang said the agency was in the process of seeking information overseas because the Mercedes-Benz allegedly included imported parts and assembled in Thailand.
The senior monk's critics have also attacked him over his link to Phra Dhammachayo, the controversial abbot of the Dhammakaya Temple.
Phra Dhammachayo, ordained by Somdej Chuang decades ago, is facing an arrest warrant related to alleged money laundering and accepting billions from the Klongchan Credit Union Cooperative embezzlement scandal.
Somdet Chuang, however, still commands much respect from his followers. He is the most senior member of the SSC and the acting supreme patriarch.
PM's Office Minister Suwaphan Tanyuvardhana, who oversees the National Buddhism Office, said he would inform Prayut and Cabinet about of the Council of State's opinion on the nomination of Somdet Chuang.
But he declined to give a timeframe, saying he would need to study related information first.
Meanwhile, Paiboon said he would lodge a letter of protest today against the nomination of Somdet Chuang with the prime minister.
"He should clear his name before he gets such a post," Paiboon said.