Thailand's King Bhumibol takes final journey past grieving subjects
Channel News Asia, 14 Oct 2016
BANGKOK, Thailand -- Buddhist monks on Friday chanted prayers over the remains of Thai King Bhumibol Adulyadej at the riverside Grand Palace in Bangkok, ahead of a traditional royal cremation that will need months to prepare.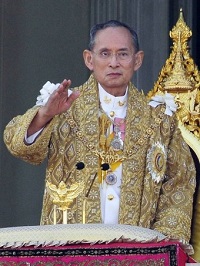 << His Majesty King Bhumibol Adulyadej (1927 - 2016). Thailand's revered monarch, the world's longest-serving head of state before his death, lived to serve his people as the "strength of the land", as his parents named him.
The world's longest-reigning monarch, worshipped as a father figure during his 70-year reign, died on Thursday in a Bangkok hospital, where he had been treated for years for illnesses affecting his lungs, kidneys, brain and blood. He was 88.
A royal convoy, which included heir apparent Prince Maha Vajiralongkorn, moved slowly through Bangkok's ancient quarter to the Grand Palace, winding past thousands of sombre Thais dressed in black, many of them holding aloft portraits of the king.
According to tradition, the bodies of Thai royals are placed in a golden urn. But palace officials said that was no longer upheld and the king's body would be placed in a coffin with a symbolic royal urn near it.
Friday's prayers were attended by members of the royal family and senior civil servants. Chanting for the king will take place every evening at 7 p.m. local time, the palace said in a statement, without giving further details.

DRESSED IN BLACK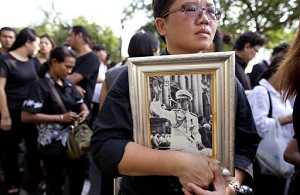 The king had been in poor health the past several years but his death still upset the Southeast Asian nation of 67 million people and plunged it into grief.
Most people in the capital and in towns across the country dressed in black but shops opened for business.
The king stepped in to calm crises on several occasions during his reign and many Thais worry about a future without him. The military, which took power in a 2014 coup, has for decades invoked its duty to defend the monarchy to justify its intervention in politics.
Military government leader Prime Minister Prayuth Chan-ocha said on Thursday security was his top priority and he ordered extra troops deployed around the country.
ORDERLY SUCCESSION
The stock market's benchmark index closed on Friday 4.6 percent higher on hopes of an orderly succession.
Prince Vajiralongkorn is expected to be the new king but he does not enjoy the same adoration his father earned over a lifetime on the throne.
The prince has married and divorced three times, and has spent much of his life outside Thailand, often in Germany.
King Bhumibol was sometimes called the world's richest monarch with a net worth of around US$40 billion. But much of the wealth was held by the Crown Property Bureau, which under the late king leased out great swathes of real estate in and around Bangkok, often at below market rates.
The monarchy is one of Thailand's most influential institutions. Part of that institution is the Privy Council, which advises the sovereign.
'LOSING A FATHER'
Suthad Kongyeam, 53, among the many mourners at the Grand Palace waiting for the king's remains to arrive, said it felt like losing a father.
"He was the heart of the whole country," said Suthad. "Everything is shaken. There is nothing to hold on to anymore."
Most Thais have known no other monarch and King Bhumibol's picture is hung in almost every house, school and office.
Black-and-white footage of the king's life, including him playing jazz on the saxophone, replaced regular transmissions on television channels shortly after his death was announced.
Until his later years, he was featured on television almost every evening, often trudging through rain, map in hand and camera around his neck, visiting a rural development project.
His wife, Queen Sirikit, 84, has also been in poor health in recent years

SIMMERING POLITICAL RIVALRIES
Thailand has endured bomb attacks and economic worries recently while rivalry simmers between the military-led establishment and populist political forces after a decade of turmoil including two coups and deadly protests.
Prayuth warned against anyone taking advantage of the situation to cause trouble. Politicians from all sides will be in mourning.
Prayuth said on Thursday Prince Vajiralongkorn wanted to grieve with the people and leave the formal succession until later, when the parliament will invite him to ascend the throne.
"Long live His Majesty the new king," Prayuth said.
Thailand's strict lese-majeste laws have left little room for public discussion about the succession.
The junta has promised an election next year and pushed through a constitution to ensure its oversight of civilian governments. It looks firmly in control for a royal transition.
TOURISTS ASKED TO RESPECT THAIS
As Thais begin a year of mourning for their king, parties and celebrations will be toned down, particularly over the next month, temporarily crimping consumer and tourist spending in an economy that has been struggling for traction in recent years.
With the government asking for people to "refrain from festivities" for 30 days, and embassies advising tourists to show restraint after the death of the king, even Bangkok's bustling bars and the country's famous holiday resorts could go unusually quiet.
Foreign embassies in Thailand advised tourists to respect the feelings of the Thai people at their time of grief.
Tropical Thailand, with its beaches, Buddhist temples and infamous night life, had expected a record 33 million tourists this year.