Thai police: Influential Buddhist abbot must surrender
By Arun Saronchai, Anadolu Agency, Nov 24, 2016
Abbot of wealthy Dhammakaya temple wanted on charges of illegally receiving money from scandal-ridden credit fund

BANGKOK, Thailand -- Thai police said Thursday that an influential abbot of a wealthy Buddhist temple has until the end of the month to turn himself in and face money laundering charges.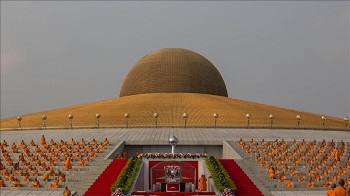 Deputy Police Chief Srivara Ransibrahmanakul told reporters that Phra Dhammachayo of the Dhammakaya Temple must turn himself in after the Office of the Attorney-General decided there was sufficient evidence to prosecute him over accusations he used temple bank accounts to launder funds.
"We will inform the temple leadership of this and ask that they not get in the way of the law," Srivara said.
On Wednesday, the Bangkok Post reported the office's spokesman Somnuek Siangkong as saying it will indict the 72-year-old abbot and four others for allegedly receiving stolen property "in connection with the Klongchan Credit Union Cooperative (KCUC) embezzlement scandal".
Prior to KCUC going bankrupt in 2014, the former chairman of the cooperative, Supachai Srisupa-Aksorn, issued $34 million worth of checks to Dhammachayo.
As a result, thousands of customers lost funds they had invested in the scheme.
The temple hosted its own press conference Thursday, with officials insisting that they have always cooperated with the law.
"Right now we can confirm the abbot is still residing within the temple but he is being attended to by physicians and is too sick to leave temple grounds," Ongart Tammanita, the temple spokesman, told reporters.
In the last two years, Dhammachayo has repeatedly been summoned by police for interrogation, but he has refused, saying he is very ill and cannot move from his temple -- a giant golden flying saucer-shaped building in a northern Bangkok suburb.
In June, hundreds of police officers tried to arrest him at the temple, but were prevented from doing so by thousands of followers who blocked access.
Founded in 1972 by a group of young monks and a nun, Dhammakaya uses modern marketing techniques to attract followers and propagates a materialistic and unorthodox version of Buddhist teachings.
It has become by far the country's most financially powerful temple, and is very influential with the Supreme Sangha Council, the committee of senior monks that lead Thai Buddhism.
Opponents, however, accuse it of distorting Buddhist principles, of propagating a materialistic version of the Buddha's teachings and equating money donated to the institution to merit acquired in the afterlife.
Over the last two decades, Dhammachayo has been implicated in numerous financial and land-related scandals, but has never attended court.
In 1999, the then-leader of the Thai Buddhist religion, Phra Nyanasamvara, wrote to the Supreme Sangha Council asking them to defrock Dhammachayo because of a land-purchase scandal but his order was never implemented.