Thai authorities seek to defrock scandal-hit Buddhist abbot
by Oliver Holmes, The Guardian, 10 March 2017
Ruling junta has kept Dhammakaya temple under siege for nearly three weeks in bid to find monk wanted for money laundering

Bangkok, Thailand -- Thailand's highest religious body has begun a process that could defrock a Buddhist abbot wanted for money laundering, escalating a conflict between the military government and a hugely popular temple.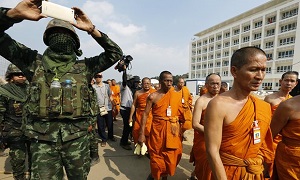 << A Thai soldier takes a photograph during the search of the Dhammakaya complex. Photograph: Narong Sangnak/EPA
The Dhammakaya complex in northern Bangkok has been under siege for nearly three weeks, with more than 4,000 police officers failing to find the sect's 72-year-old spiritual leader.
Despite orders to vacate the 1,000-acre complex, monks and volunteers have remained. Three searches by police have found nothing.
Phra Dhammachayo is accused of colluding in a £28m money laundering scheme but has eluded arrest, infuriating the junta, which took power in a 2014 coup. To find him, the government has invoked special constitutional powers normally intended for national security threats, in what has become a high-stakes, face-saving standoff and a national obsession.
In the latest victory for the ruling generals, the governing body of the Buddhist order in Thailand, the Sangha council, became involved in the case. "This is the first step, and the last will be the disrobing of Phra Dhammachayo," Pongporn Pramsaneh, head of the National Office of Buddhism, told reporters on Friday.
Founded in 1970 as a meditation-focused forest retreat on the outskirts of the capital, the temple has grown an extremely dedicated following through savvy marketing, including televised sermons and gatherings of hundreds of thousands of devotees.
A follower sneaked the Guardian past police lines last week into the temple grounds. Inside, hundreds of people sat on plastic chairs blocking the main route, most with their eyes closed and deep in meditation. Others rested in tents.
Phra Pasura Dantamano, an English-speaking monk who has been at the temple for 11 years, said followers were suspicious of the government and felt a sense of ownership over the temple.
The Makha Bucha Day ceremony for Buddhist monks – in pictures
View gallery
"They are here to protect their own home. This is not like a political demonstration. They are not going to fight because these people do not know how to fight. They will just stay here – meditating and chanting."
The government has taken what many see as drastic measures to enforce a blockade. It ordered telecoms companies to cut mobile phone reception at the temple, and certain food and medical items have been prevented from entering, a move templegoers say is a breach of their human rights.
For years, the sect has been the subject of fascination, mostly due to its unique structures, including a UFO-shaped pagoda made with a million golden Buddha statues. The temple grounds cover an area bigger than Monaco.
Another construction, the newly built headquarters, is multistoreyed and circular with a giant peacock stamped on the front. It symbolises the world, monks say, and the peacock is a nod to the abbot's former mentor, a Buddhist nun whose name means peacock. Many of the birds can be found wandering the grounds.
The temple declares it is apolitical, but its millions-strong following in Thailand is viewed by the generals who run the country as a threat. The temple has also denied alleged associations with the junta's main political foe, former prime minister Thaksin Shinawatra.
"In Thailand, there has not been a temple of this size with this amount of followers in history," said Phra Pasura Dantamano.
Top Thai Buddhist monk investigated over vintage Mercedes-Benz
Read more
"When a certain group of people in power, especially when they attained power that way, I can understand their fear," he said, alluding to the 2014 coup. "They might be afraid that if we try to mobilise these followers against them, it could be a threat. But I will say that they are too panicked about that."
The temple contends that any money laundering charges were settled years ago when the money, which it says was believed to be a legitimate donation, was repaid. But when the case was reopened, the abbot requested police visit him for questioning inside the temple due to his ill health, angering authorities.
After three summons for questioning, the police issued an arrest warrant, but the abbot did not show.
With more than 90 branches in 35 countries and a canny social media presence, the temple has become extremely rich. Traditionalists have lamented its focus on monetary donations and sermons that give blessing for wealth.
But the temple says its assets are spent on society, launching projects to combat teen pregnancy and opening meditation centres.
Followers are eager to point out that the temple's apparently ostentatious shrines, including one in the shape of a golden pyramid, are largely functional and simple compared with the intricate, golden filigree found at other Buddhist sites.
Advertisement
And the high-rise condominiums on the grounds may look flashy, one devotee said, but they house eight monks in each room, none with air conditioning.
There have been a few scuffles between police and monks outside the complex but, for the most part, the government has been eager to avoid images of men in uniform using force against saffron-clad monks.
Yet the junta is working other levers of power – the abbot was recently stripped of his monastic rank by the country's new monarch, King Maha Vajiralongkorn. Now the case has gone to the Sangha council, he could be defrocked, ejecting him from the monkshood.
"Whenever Thailand is in an unstable situation, especially politically, Wat Phra Dhammakaya has always been a target," said Phra Pasura Dantamano, who had to cut his interview short as he was summoned for questioning.
"We have nowhere else to go. Our back is already against the wall."