Thai Junta Lifts Control on Influential Buddhist Temple
Reuters, April 11, 2017
BANGKOK, Thailand -- Thailand's junta lifted restrictions on movement at the country's biggest Buddhist temple on Tuesday, a month after police ended a siege of the complex whose former abbot is accused of money laundering.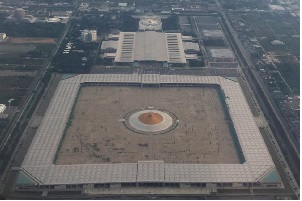 << Thailand's Dhammakaya Buddhist temple in Pathum Thani outside Bangkok, seen from the air on April 9, 2017. Picture taken April 9, 2017. REUTERS/Matthew Tostevin Reuters

A three-week standoff at the Dhammakaya temple between thousands of police and saffron-robed monks became one of the biggest challenges to government authority since a 2014 coup. Police failed to find the monk.
"Restriction on the Dhammakaya temple is revoked," Prime Minister Prayuth Chan-ocha told reporters after a meeting between the junta and the cabinet.
The junta had used its Article 44 emergency law to declare the temple a restricted area and allow security forces to search for Phra Dhammachayo, who is wanted on charges of money laundering and taking over land without permission.
A government spokesman said the situation at the temple, just north of Bangkok, had relaxed so the restriction was no longer necessary.
The temple has been linked to more than 350 cases, police have said. It is also being investigated for three new cases involving possible financial crimes.
The temple - nearly 10 times the area of the Vatican City and topped by a UFO-shaped gold dome - dwarfs Thailand's 40,000 or so other temples in wealth as well as size. It claims millions of followers, although still a small minority of Thai Buddhists.
Phra Dhammachayo helped found the temple and remains influential. Aides say they have not seen him for months and that he is too sick for questioning. They say the charges against him are politically motivated.
---------
Reporting by Pracha Hariraksapitak; Writing by Patpicha Tanakasempipat; Editing by Matthew Tostevin, Robert Birsel