Full disclosure on the menu for temples
The Bangkok Post, 16 Jun 2017
Bangkok, Thailand -- The government will propose a law to force its tens of thousands of Buddhist temples to declare their finances, the head of the National Office of Buddhism told Reuters.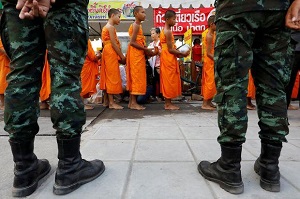 << Buddhist monks receive food from people while soldiers watch on outside Wat Phra Dhammakaya in Pathum Thani province on Feb 23. (Reuters photo)
Temples get billions of baht in annual donations and have been hit by scandals ranging from murder to sex to drugs to improper financial dealings. They have also largely eluded the junta's control as it has stamped its authority on other aspects since a 2014 coup.
Pongporn Pramsaneh, a former policeman appointed to head the government's National Office of Buddhism this year, said reform was essential to stamp out corruption.
"It's a crisis of faith," Mr Pongporn told Reuters in an interview on Thursday. "If we don't do it today, more damage will be done in future."
Efforts to bring greater control over Buddhism have intensified since March, when the influential Wat Phra Dhammakaya defied a three-week siege by police searching for its former abbot on money-laundering charges. He is still on the run.
"If Buddhism becomes too decadent, it will affect national security," says Mr Pongporn.
The temples get an estimated 119 billion baht a year in donations, according to a 2014 study. The government provides a further 4.67 billion baht to support temples and more than 300,000 monks.
Mr Pongporn said he would propose measures to the military-appointed parliament next week to make it a law for temples to report their assets and financial records, as well as make them publicly available for scrutiny.
"It will be greatly beneficial in preventing corruption," said Mr Pongporn, whose agency liaises with the Sangha Supreme Council, Buddhism's governing body in Thailand.
But one of the senior monks on the council, Phra Phrom Moli, said corruption should be addressed case-by-case and temple finances kept private.
"If someone asks to know your salary, will you tell them?" he asked.
The need for action had been highlighted by the recent exhumation of a 17-year-old novice murdered in a quarrel over money, as well as the discovery of past corruption involving the Buddhist office itself, Mr Pongporn said.
Buddhism is one of the three traditional pillars of Thai society alongside the nation and monarchy. Theravada Buddhism is followed - to varying degrees - by more than 90% of people in the country of more than 67 million.
MrPongporn said about 80% of the 40,758 temples submit their annual financial reports for archive purposes, but authorities are not allowed to scrutinise them.
Wat Phra Dhammakaya, which is the country's biggest, is among those that do not, he said.
The National Reform Steering Assembly is also pushing for financial reform of temples.
"It's not enough for temples to submit their accounts, but they must be scrutinised and audited," Borvornvate Rungrujee, one of the assembly members, told Reuters.
A separate bill that appears to significantly reduce the say of the Sangha Supreme Council is also making its way through government.
It would give monks chosen by the Sangha Council only three of 29 seats on the committee. Among the committee's duties would be to appoint "monk police" with legal authority to report misbehaving monks.
The bill has been approved by the council of monks and is being considered by the cabinet, MrPongporn said. After that, it would need to go to parliament.
"If Buddhism becomes too decadent, it will affect national security," MrPongporn said.