Buddhism as National Religion Would Fuel Extremism: Scholar, Author
By Pravit Rojanaphruk, Khasod English, March 20, 2018
BANGKOK, Thailand -- A Buddhist scholar and foreign correspondent both warn in recent books of the rising specter of Buddhist nationalism in Thailand.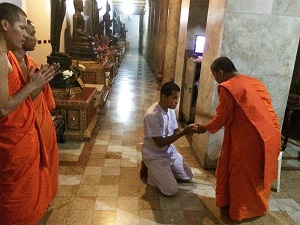 << Controversial hardline monk Apichart Punnajanatho participates in a ceremony expelling him from the monkhood at Bangkok's Wat Benchamabophit in September 2017. Photo: Center for the Protection of Buddhism in Thailand / Facebook
Buddhist scholar Suraphot Thaweesak recently warned that a bid to enshrine Buddhism as the national religion would increase the kind of extremism that French journalist Arnaud Dubus writes about in his recently released book "Buddhism and Politics in Thailand."
"They think the state must protect Buddhism. … It's difficult to make them see other points. We have to invite them to think about the teachings of Buddhism, that the Buddha talks about cessation of suffering," Suraphot said, adding that establishing a national religion would spark more conflict with Thais of other faiths.
Dubus' evidence of growing Buddhist extremism includes calls to burn down mosques in the predominantly Muslim-Malay Deep South, where soldiers have ordained as monks, equipped with both alms bowl and heavy weapons.
The short volume gives a broad look at how Dubus believes state-sanctioned and centralized Buddhism has failed to adapt to new realities after a century of being co-opted by the state.
Dubus, who's lived in Thailand three decades, writes that the new constitution, passed by referendum in 2016, contains disturbing passages that afford special status to Buddhism.
Under Article 67, "the state shall promote and support education in and propagation of the principles of Thevarada Buddhism […] and shall establish measures and mechanisms to prevent the desecration of Buddhism in any form. The state shall also encourage the participation of all Buddhists in the application of such measures and mechanisms," the book says.
Dubus says in his book that in a first, "Buddhism was this time clearly put at a level superior to other religions."
"One indication of the Muslim discomfort was the very high number of 'no' votes to the draft charter in the southern provinces during the August 7, 2016, referendum as well as the high number of defaced and spoiled ballots," he wrote.
Dubus notes in his book, a discussion of which this writer joined last month at Alliance Francaise, that the draft charter went even further by dropping traditional language calling for "religious harmony."
It soon must have dawned on the junta that something was amiss, however, Dubus wrote.
"The military junta apparently realized, when analysing the referendum results, that something was amiss, and that there was a high risk of increasing discontent among the Muslims," he says in the book. "Thus on August 22, barely two weeks after the referendum, Prayuth Chan-ocha issued an order under section 44 of the interim charter – which gives him absolute power for the good of national security – trying to correct the effect of section 67 of the draft charter."
A panel was subsequently established to "prevent acts which threaten Buddhism and other religions" and "promote good understanding and harmony among followers of all religions."
Buddhist meditation trainer Vichak Panich, who's well known for espousing a liberal view in his online videos, expressed similar concerns but said the hardliners are likely to be in the minority.
Vichak said it's hard to convince such people to reconsider their thinking, however.
"We may have to ask what kind of Buddhism they want to promote," he said.
For Najib Ibn Ahmad, a 50-year-old Muslim from Narathiwat province, hope for the future rests on the younger generation of Buddhists. Najib, an independent researcher on local Thai-Malay culture, predicts if Buddhist extremists fail to establish Buddhism as the national religion in the next decade, the younger Thai Buddhists who inherit society are likely to be more open-minded.
The current situation doesn't bode well, however. Najib said that while the state talks about a pluralistic culture, there exists persistent attempts to declare Thailand officially Buddhist as only Cambodia has done. "Things will become more extreme if it becomes law. I am worried."
Asked how he might soothe the fears that Buddhism is under threat and needs to be enshrined in the constitution as the national religion, Najib said it's beyond his ability.
"It's a belief, and beliefs are not knowledge. Buddhism has survived for 2,500 years, just like Islam has thrived for 1,400 years. There exist dynamics, and if it decays, there will be people who will revive it. I don't have the skill to convince them but the media can make them better informed."
Najib said the continued use of Buddhist temple grounds as camping sites for small military units deployed in the restive Deep South, where a separatist insurgency has killed thousands since 2004, makes local Thai-Malay Muslims feel the monks have become part of the military apparatus.
Another state action that has exacerbated the already tense situation in the southernmost provinces are so-called "military monks." These are soldiers who are ordained and keep their weapons while officiating as monks.
It, according to Dubus, "reinforces this conflation between Buddhist religion and nationalist politics in the eyes of Thai Malay Muslims."
Dubus fails to provide details on the number of these military monks or interview any of them, however.
There's also the rather popular monk preaching anti-Islam sentiments online. Back in October 2015, Phra Maha Apichat put out a call via Facebook for Buddhists "to burn a mosque for every Buddhist monk killed in the south."
Apparently, that stance was too much for the state. Last year, the monk was brought to Bangkok to be disrobed and forced to lie low.
This doesn't mean the hostility he espoused or supporters have gone away.
In a dark scenario painted by Dubus at the end of the book, he concludes that overall, it's difficult to see a positive future for Thai Buddhism. Dubus fears that Thai Buddhism could continue to go down "the slope of nationalism and politicization" wherein Buddhism becomes the national religion and serves as "a springboard for the most conservative version of Buddhism to become dominant."
Suraphot meanwhile proposes the secularization of Buddhism:
"The solution is to separate religion from the state and questions the relationship between the state and religion. The state must be impartial among religions."