Temple Fund Investigations Being Considered by Thai Police
The Buddhist Channel, 21 May 2023
Bangkok, Thailand -- A series of multi-million baht cases involving monastic fraud has prompted the police in Thailand to contemplate their investigation into temple funds.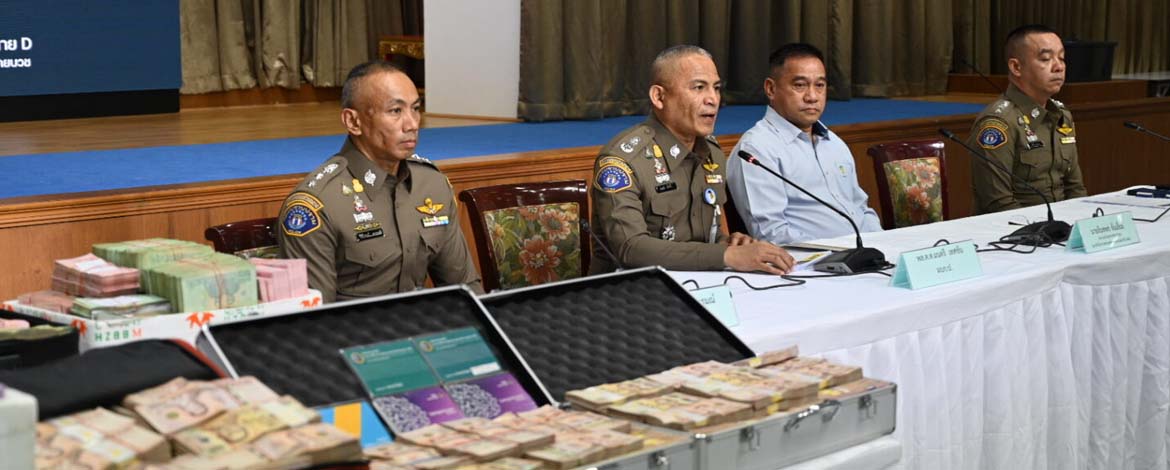 In an effort to combat financial crimes and sexual misconduct committed by monks, Thailand's Central Investigation Bureau (CIB) has assigned the Anti-Corruption Division (ACD) to collaborate with the National Office of Buddhism (NOB).
Phra Vajirayankosol, the founder of Wat Pah Dhammakhiri, a forest monastery in Nakhon Ratchasima province, and Phra Maha Wuthima Thaomor, the abbot of the temple, were recently defrocked and stripped of their titles. They are alleged to have stolen approximately 300 million baht (US$ 8.9 mil) from the temple funds and engaged in sexual relations.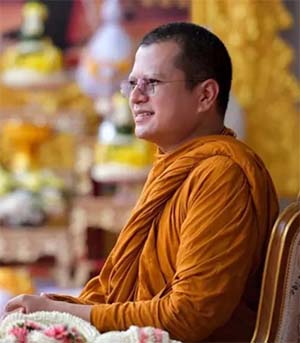 Since May 8, Khom Khonggaew, 39, and Wuthima Thaomor, 38, who are now laymen, have been placed under arrest.
<<

Mr. Khom or Phra Ajarn Kom

Apiwaro of

Wat Pa Thammakhiri

The police have discovered 130 million baht (US$ 3.79 million) of stolen temple funds in Mr. Khom's bank account, and an additional 51 million baht (US$ 1.49 million) in cash at the residence of Mr. Khom's sister, Jutatip Pubodeewachorupan, who is also under arrest.

The public's attention has been drawn to this case due to the seizure of funds and the ongoing police investigation into the alleged misconduct of the monks.

Upon realizing the significant amounts of donations received by numerous temples that require scrutiny, the ACD has teamed up with the NOB to address corruption complaints concerning temples.

Pol Lt Gen Jirabhop Bhuridej, the CIB commissioner, stated that the arrest of Phra Ajarn Khom Apiwaro is a significant development that could potentially lead to investigations into other cases of embezzlement at different temples. He emphasized the need for monks and abbots to regularly account for donation money, as failure to do so may be perceived as fraudulent by the temple executive committees.

Pol Lt Gen Jiraphob, referring to Mr. Khom, revealed that the NOB had requested the police to investigate his affairs as the president of Wat Pah Dhammakhiri. The NOB believed that Mr. Khom was involved in embezzling the temple's donation money since he was responsible for overseeing the financial management of the temple.

According to Pol Lt Gen Jiraphob, both Mr. Khom and Mr. Wuthima are suspected of diverting the temple's funds for personal use. Mr. Khom admitted to having engaged in sexual activities within the temple's cloister, which violates the disciplinary rules for monks. He expressed his willingness to be defrocked and surrender himself.

On May 9, the CSD arrested six other individuals connected to the case, including a driver and five defrocked monks from Wat Pa Dhammakhiri. They are suspected of involvement in the 300-million-baht embezzlement scandal.

The five former monks, identified as Boonsong Phanphuwong, 34, Bundit Yoicha, 42, Natthapat Tangjaisanong, 36, Boonluea Pothong, 36, and Thanakrit Yotsurin, 34, as well as the driver, Boonsak Pattarakosol, 45, face charges of embezzlement, aiding in embezzlement, and receiving stolen goods. Reports indicate that they concealed 76 million baht in cash, gold bars, and bullion worth a total of approximately 100 million baht on the premises of the forest temple.

Their bail request was rejected by the Central Criminal Court for Corruption and Misconduct Cases due to the significant amount of seized assets and cash, as well as the potential interference with evidence and witnesses if they were to be granted bail.

Pol Lt Gen Jiraphob stated that the case is not complicated since the suspects' intentions were apparent. If they did not intend to misappropriate the temple's donation money, they would not have transferred it to Ms. Jutatip's account. He emphasized that the money should have remained in the temple's accounts as per the donors' wishes.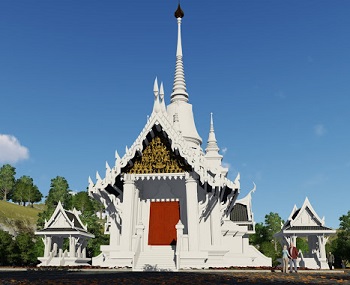 << Wat Pa Thammakiri in Nakhon Ratchasima province, scene of a massive cash seizure by Thai Police.
To further investigate temples where monks are suspected of embezzling donation money, Pol Maj Gen Jaroonkiat Pankaew, the commander of the ACD, has been assigned to collaborate with the NOB. While the NOB possesses insightful information, they lack investigative personnel. Therefore, the CIB will facilitate the coordination between the two agencies for the investigation.

Mr. Khom gained popularity among the public due to his educational background and the Supreme Patriarch of Thailand's scholarship he received. He followed the teachings of the late Luang Ta Maha Bua of Wat Pa Bantad, renowned for his fundraising campaigns for temples.

Prior to his ordination at Wat Pa Dhammakhiri, Mr. Khom studied and practiced Buddhist precepts under the guidance of Luang Ta Maha Bua's sister during his middle and high school years. He later founded Wat Pa Dhammakhiri after visiting Pak Chong district in Nakhon Ratchasima to find a peaceful retreat location.

In 2021, Mr. Khom's popularity surged when he was bestowed the title Phra Vajirayankosol by His Majesty the King. The relationship between Wat Pa Dhammakhiri and the royal family dates back to 2013 when Her Royal Highness Princess Aditayadornkitikhun presided over a gold-casting ceremony for the temple's principal Buddha image.

Mr. Khom's preaching attracted a significant number of devotees, including high-profile businessmen, government officials, politicians, and actors, who contributed substantial amounts of money to build facilities at the temple.

According to a source from Nakhon Ratchasima, the area in Pak Chong district, where the temple construction is taking place, was previously a national forest reserve used for agricultural purposes. The temple received six rai of land initially and later obtained an additional 30 rai donated by followers. The ongoing construction at Wat Pa Dhammakhiri has attracted numerous followers.

The arrest of the prominent Phra Khom has led Jaturong Jongarsa, a Buddhist scholar, to comment on corruption within famous temples. He suggested that the Sangha Supreme Council should decentralize its authority to provincial, district, or sub-district levels to combat such corruption issues effectively.

Mr. Jaturong highlighted the competition among many Buddhist temples in Thailand to build larger Buddha images or structures to attract more followers, which some view as the commercialization of Buddhism. He argued that when abbots are promoted, more people devote themselves to the temples, resulting in increased religious engagements for the abbots and further augmenting temple funds.

To address these concerns, Mr. Jaturong urged the Sangha Supreme Council and the Department of Religious Affairs to review their policies and be more proactive in investigating a temple's financial affairs.